All-On-4 Dental Implants – Gainesville, FL
Get Your Entire Smile Back!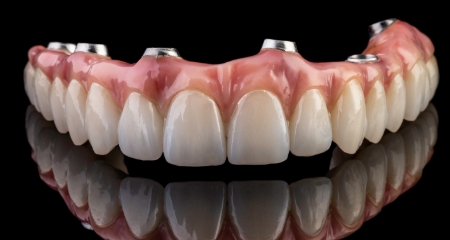 Instead of replacing every individual tooth in an arch, a full denture supported by 4 strategically placed dental implants can be used to replace all of your missing teeth. This option eliminates many of the downsides of traditional dentures, like unexpected slippage and noises coming from your mouth. In some cases, you can even have your new smile placed on the exact same day! To learn more about All-On-4 dental implants or to schedule a consultation, contact us.
---
How Do All-On-4 Dental Implants Work?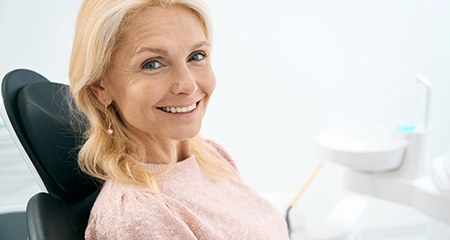 Dental implants are an ideal tooth replacement option. Unlike dental bridges and dentures, dental implants replace the roots of the missing teeth, allowing for numerous additional benefits, like stability and the prevention of jawbone deterioration. Getting dental implants requires that you have a strong enough jawbone to support replacement teeth. All-On-4 dentures use four strategically placed dental implants to provide maximum support. By placing the implants in the thickest areas of the jawbone at precise angles, we can minimize the need for bone grafting. Once your dental implants have been placed, abutments are attached and used to secure a denture into place.
---
Am I a Candidate for All-On-4 Dental Implants?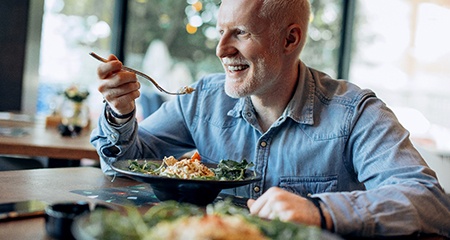 Most people who have lost all of their teeth on one or both arches make a good candidate for All-On-4 dental implants. Even patients who have suffered from bone loss may be eligible because of the strategic angle placement. Ultimately, patients who would typically need bone grafting prior to implant dentures may not need it for All-On-4. However, you still need to be in good oral health and committed to keeping up excellent dental hygiene.
---
Benefits of All-On-4 Dental Implants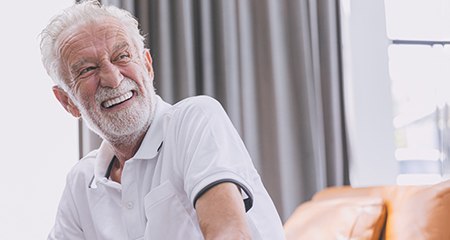 You can expect numerous benefits when you opt for All-On-4 dental implants. Here are just some of the most prominent ones:
All-On-4 dental implants are fixed to the jawbone, so you can brush them just like you would brush natural teeth. They don't need to be removed first.
All-On-4 dental implants prevent bone loss. This will help you to maintain a more youthful appearance.
All-On-4 dental implants restore your chewing power more effectively than traditional dentures. This allows you to enjoy a more expansive diet.
All-On-4 dental implants feel more comfortable. They will be very similar to your natural teeth.
---
All-On-4 VS Traditional Dental Implants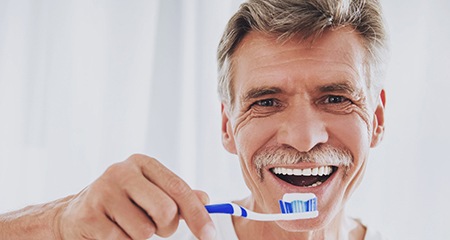 All-On-4 dental implants have many similarities to implant dentures, but there are some key differences that make them unique. Here are the main things that differentiate them:
All-On-4 dental implants often don't require bone grafting and waiting several months before the implants can be placed.
All-On-4 dental implants often allow patients to show off their new teeth in a single day!
Implant dentures can require up to 8 dental implants to support them. This means that All-On-4 is more cost-effective and requires less surgery.
All-on-4 FAQs
Does All-on-4 Feel Comfortable?
Yes, all-on-4 dental implants are designed to feel comfortable! Unlike traditional dentures, which can potentially cause discomfort by pushing down on gum tissue, all-on-4 relies on dental implants to provide stability and withstand regular chewing and biting forces. This results in a more natural and comfortable feel in your mouth. However, it's important to note that regular checkups at the dental office are still necessary to ensure there are no problems with your complex tooth replacement.
How Long Does the All-on-4 Procedure Take?
It depends! The length can vary based on the individual's specific dental situation. The initial appointment, where the patient receives their implants and temporary denture, may take approximately two hours or more, depending on the condition of their mouth. If a patient is already missing all the teeth along a single row, the implants can be placed and restored relatively quickly. However, for some patients, a few failing teeth may need to be extracted before the implants can be placed, which can extend the duration of the appointment.
Following this initial appointment, the mouth requires a few months to heal. Once this healing process is complete, the patient will receive their new, permanent denture. Therefore, while the initial appointment may take a few hours, the entire process, including the healing period, can span several months.
Can I Use My Dental Insurance?
Absolutely! While every dental insurance policy differs, most plans typically provide coverage to reduce the amount you need to pay out-of-pocket. It's important to note that you will need to pay your premiums and meet your deductible before you can utilize your annual allowance.
We understand that dental insurance can be complex, which is why we are committed to assisting you. Our team will take care of filing the necessary claims and paperwork on your behalf to seek reimbursement. We will also provide you with a clear explanation of how your benefits are applied and discuss any remaining balance that may be your responsibility.
Can All-on-4 Dental Implants Fail?
While it's rare for all-on-4 dental implants to fail, it's not impossible. To lower the risk of complications, it is important to maintain good oral hygiene at home. Additionally, regular dental checkups and cleanings are crucial, and it is recommended to visit your dentist at least twice a year. If you experience any concerning symptoms such as pain, redness, or swelling, it is important not to hesitate and to promptly contact our office for further evaluation and guidance.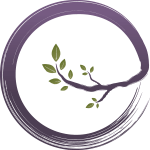 Have Questions? Get Answers.
Please fill out this short form and we'll be in touch.