Dental Bridges – Gainesville, FL
Rebuild the Look, Function, and Health of Your Smile
At Exceptional Dentistry & Sedation Center, our mission is to provide our patients with high-quality services that better their lives. One of the ways that our talented dentists do this is by offering personalized dental bridges in Gainesville, FL. With this lifelike tooth-replacement solution, they can fix numerous issues such as damaged, weakened, or lost teeth. Keep reading to learn more about this restoration and the benefits it comes with.
Why Choose Exceptional Dentistry & Sedation Center for Dental Bridges?
Dentists Who Have Trained at the Las Vegas Institute for Advanced Dental Studies
Top-Rated Dental Office in Gainesville
Dental Insurance & Flexible Financing Welcome
---
What is a Dental Bridge?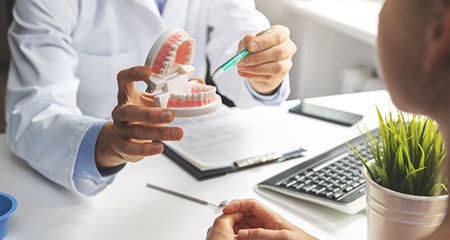 A dental bridge is a custom-made prosthetic used to replace multiple missing teeth consecutively. This restoration literally bridges the gap in your smile, creating a beautiful and complete set of teeth. Using dental crowns on either side of the gap for stability, we can attach a personalized dental bridge. This treatment can be used to replace 1 to 3 consecutively missing teeth, successfully restoring the visible part of the dental structure.
---
Types of Dental Bridges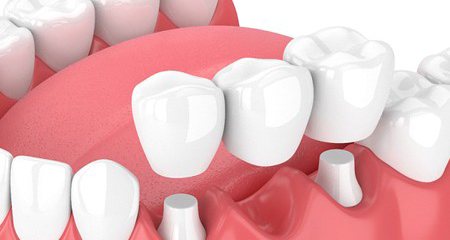 Drs. Art & Kim Mowery are happy to offer their patients in Gainesville two types of dental bridges: traditional and implant bridges. Of course, they will review each of them in-depth during your consultation to determine which one is best for your unique dental needs, you can also learn a bit more right here:
Traditional Dental Bridge
Traditional dental bridges replace one tooth or a few consecutive teeth with crowns and pontics (replacement teeth). In this case, we will prepare the surrounding teeth for the supportive crowns before taking images and impressions of the area. Once the high-tech dental lab fabricates your dental bridge, we will fix the prosthetic to your smile, and you'll walk out of our dental office with a complete set of teeth.
Implant Bridge
Implant bridges are also designed to replace up to three consecutive missing teeth. However, there is an important difference: the replacement teeth are secured in place with dental implants on both sides of the gap! This offers patients numerous benefits, including a more conservative treatment and a 20+ year lifespan with proper care.
---
The Benefits of Getting a Dental Bridge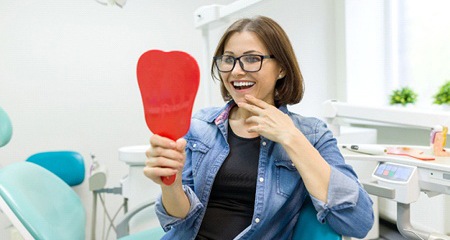 Here are a few noteworthy benefits of dental bridges:
This restoration fills the gap in your smile, preventing the surrounding teeth from drifting out of place.
The materials used to make your dental bridge are extremely lifelike in look and feel.
No complicated oral hygiene regimens necessary – just brush, floss, and visit our team semi-annually like usual!
With the right best practices in place, your dental bridge can last for well over a decade.