Restorative Dentistry – Gainesville, FL
Renew Oral Health for Flawless Smiles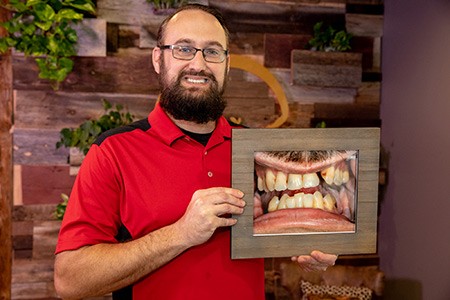 At Exceptional Dentistry & Sedation Center, we go above and beyond to ensure patients achieve their healthiest smiles and keep them for a lifetime. However, despite our best efforts, sometimes dental decay and damage still happen. That's why our skilled dentists offer a wide array of restorative dentistry services to repair the form, function, and appearance of damaged smiles. If you or a loved one have experienced dental damage or decay, please call our friendly team right away. We'll reserve a time for you to visit us as soon as possible, so we can start to rebuild your smile together with restorative dentistry in Gainesville, FL.
---
Dental Crowns & Bridges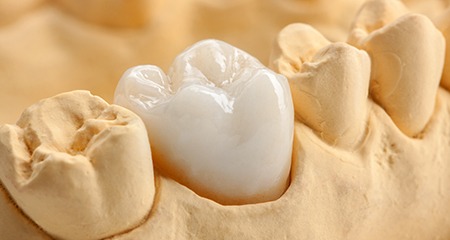 Dental crowns are custom restorations that fit completely over the top of damaged or decayed teeth. They are commonly made from gold, porcelain fused to gold, and ceramic. Our team uses only the highest quality materials, and we work with skilled ceramists in our dental labs who offer restorations that look, feel, and function just like natural teeth. Patients in need of a dental crown should plan for two appointments at our Gainesville, FL dental office. During the first appointment, we'll carefully prepare the tooth, removing any damaged tooth structures, smoothing the tooth, and making room to accommodate the additional material. Then, we'll capture an impression of the prepared tooth that will be used by the skilled craftsmen in our dental labs to create the dental crown. Before patients leave, we'll place a temporary crown to protect the prepared tooth. Once we receive the final restoration, patients return to have their custom restoration placed. In addition to repairing damaged teeth, a row of dental crowns can be fused together and attached to healthy teeth on either side of an empty socket in order to replace one or more consecutive missing teeth. These prosthetics are known as fixed bridges.
---
Tooth-Colored Fillings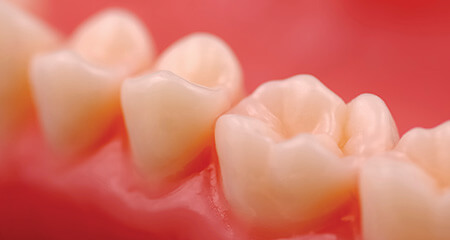 Most of our patients have one or more dark-colored amalgam (silver) fillings in their mouths. While amalgam has offered reliable dental restoration for decades, this material is no longer the standard in dental care. The unnatural appearance is the most obvious reason, but amalgams are also a less than ideal restorative solution. Before placing amalgam fillings the dentist must remove some healthy dental structure to create wedges that hold the amalgam in place. Additionally, amalgam expands and contracts at a different rate than tooth enamel, so there's an increased risk that the filling will break away or allow bacteria to access the space between the tooth and filling over time.
For these reasons and many more, we've started to rely on tooth-colored composite resin fillings. First and foremost, this material is easily shaded to match any tooth color, making it the obvious cosmetic solution to decay and damage. Additionally, composite resin is directly applied to teeth in a putty-like consistency that can mold to fit into even the smallest crevices. That means we don't need to remove any healthy tooth structure to accommodate the filling. Once the composite resin is shaped into position, we use a curing light to harden the filling in place, leaving patients with a fully restored, cosmetically flawless smile.
---
Dentures & Partials
When our patients experience significant tooth loss, it is our goal to not only replace their lost teeth, but we also want to renew their confidence. That's why we custom craft partial and full dentures that look natural, fit well, and function flawlessly. Partial dentures often referred to simply as partials, are used to replace any number of missing teeth along an arch. Our trusted dental lab molds a denture base that will fit seamlessly between healthy teeth and snap in place with clasps attached to remaining teeth. The base supports natural looking replacement teeth, and once in position, this comfortable tooth replacement solution looks and feels completely natural. Full dentures have come a long way over the past decade. Today's dentures hardly resemble the bulky, ill-fitting tooth replacement solutions our grandparents wore. Our custom dentures are molded to fit snugly against the gums without putting excessive pressure on this sensitive tissue. Instead, the base is made of a material that creates natural suction, holding the full arch of replacement teeth snugly in place. For optimal comfort and stability, we are also happy to offer dental implant supported dentures. Nothing can replace the function of healthy, natural teeth. However, if you require a denture, Implant retained are the best choice for optimal stability and quality of life satisfaction.
---
Root Canal Therapy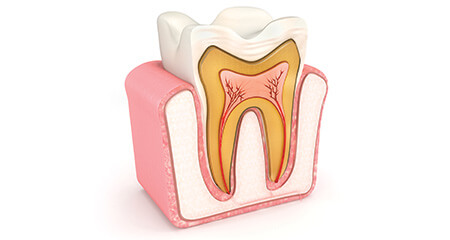 Root canals are not actually the painful, frightening experience many patients assume they will be. In fact, most patients experience significant pain relief following a root canal. The procedure itself is only necessary when dental damage or decay affects the innermost layer of the tooth. Known as the pulp, this soft material contains the entire nerve system of each tooth, meaning damage to the pulp directly accesses the nerves causing an extremely painful toothache. It's very important that we begin treatment right away for patients who experience damage to the inside of their tooth, and we encourage patients to contact us right away for an emergency appointment if they experience severe toothache, pain when biting down, sensitivity that lingers when consuming hot or cold foods and beverages, or notice discoloration of a single tooth. The root canal procedure allows us to remove the entire pulp layer of the tooth and replace it with a natural, biocompatible material called gutta percha. We then reseal the tooth. In some instances, we may want to place a crown over the root canal treated tooth to protect it from additional damage.
---
Tooth Extractions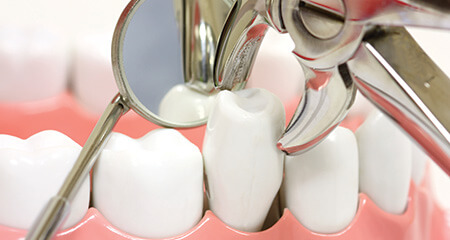 We do our utmost to preserve patients' natural dental structures, but there are some occasions when removing the tooth is the best option to ensure patients retain the best overall oral health. If it's necessary for us to remove one or more teeth to protect patients' smiles, we'll typically consult with them on tooth replacement solutions on the same day. That way, we're able to begin repairing smiles quickly. Some of the most common reasons we recommend tooth extraction are:
To prevent a damaged or decayed tooth from adversely affecting oral health including sharp points that wear opposing teeth, extensive decay that may spread to surrounding teeth, and the abscessed tooth that may lead to further tooth loss if the tooth is preserved.
When the tooth is too severely decayed or damaged to support a restoration, we may need to remove it and replace it with a custom prosthetic tooth.
As we prepare patients for orthodontic treatment, one or more teeth may need to be removed to eliminate crowding and allow the smile to shift into its ideal alignment.
Prior to creating and placing a partial or full denture, we may need to remove weakened or damaged teeth.
---
Full Mouth Reconstruction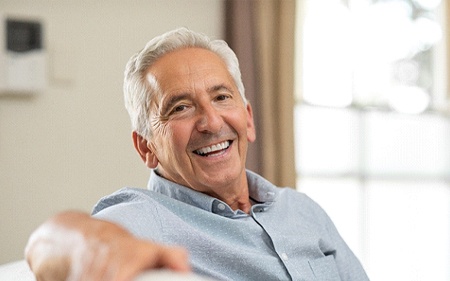 If you have multiple or complex issues plaguing your smile, our team is ready to help with our full mouth reconstruction service. We'll carefully evaluate your oral health, talk to you about your goals and concerns, and recommend a custom treatment plan to restore your teeth's appearance, function, and strength. Full mouth reconstruction may include both restorative and cosmetic procedures, such as dental implants, inlays and onlays, porcelain veneers, crowns, and more.