Orthodontics – Gainesville, FL
Clear Braces Smile Alignment Solutions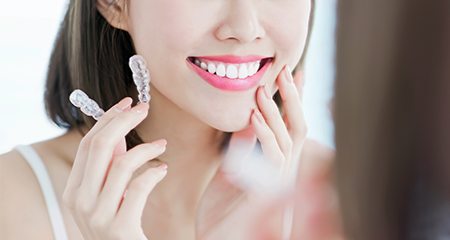 Every time you look in the mirror, you see crooked teeth. Your smile could look so much better. But, you certainly do not want to wear immature-looking metal braces. Not at this stage of your life! You've worked to create a sophisticated image, and you shouldn't have to compromise it. The point is to look better, not temporarily worse. Now, you can have your cake and eat it, too - you can have your dream smile without wearing metal orthodontic braces. How? It's simple. At Exceptional Dentistry & Sedation Center, we offer a cosmetic orthodontic solution: Invisalign clear braces. Please contact our team to schedule a cosmetic consultation today to discuss options for orthodontics in Gainesville, FL. We'll walk you through the process and start you down the road to a flawless smile.
---
Invisalign Clear Braces
Our skilled dentists offer clear, removable Invisalign aligners to straighten teeth in about half the time of traditional orthodontics. You won't have to attend "adjustment visits" and endure the painful force of tightened wires, poking brackets, and tugging bands. Instead, with Invisalign, you'll simply slip custom-made, clear aligners over your teeth. Each set of aligners represents one step closer to your desired result. You'll wear the set for about two weeks, then exchange it for the next set of aligners in the series. When you want to eat, brush your teeth, or attend a special event, just take the aligners out temporarily. It's truly that simple.
With three-dimensional imaging and case planning software, our cosmetic dentists will design a custom treatment plan for you. Then, a certified Invisalign laboratory will fabricate a series of custom aligners. Wear them as directed, and your teeth will move in response to gentle pressure. In most cases, Invisalign treatment takes 6 to 18 months, instead of years, like traditional braces. You will need to visit us a little more often than usual, typically 6 to 8 weeks, but these checkup visits are simply an opportunity for us to make sure your smile is moving forward as planned.