Invisalign – Gainesville, FL
The More Comfortable and Discreet Way to Straighten Teeth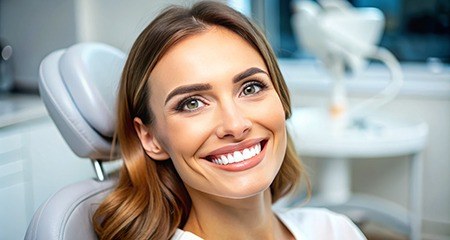 Whether you're a teenager or an adult, being embarrassed to show your smile because of crooked and misaligned teeth can have a massive impact on your self-esteem. The only problem is, the thought of getting uncomfortable and noticeable metal braces doesn't sound like something you would want to have to deal with, especially when you're required to maintain a certain professional image at work or school. If you could benefit from braces but don't want to deal with a cumbersome mouth full of metal, Exceptional Dentistry & Sedation Center offers Invisalign in Gainesville, FL. To learn more about how we can transform your smile into one that you'll be proud to show off, contact our dental office today!
What is Invisalign?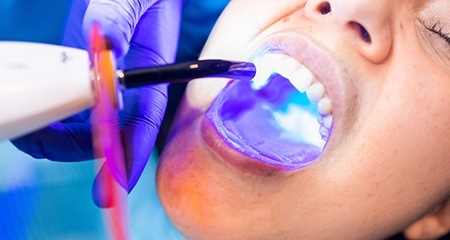 Invisalign clear braces is a versatile FDA-approved orthodontic treatment that uses transparent, customized aligners made from smooth plastic to gradually shift teeth into their ideal positions. Each aligner targets its pressure on improving certain areas of your mouth at a time, eventually achieving a beautiful and straightened smile. The average treatment timeline is between eight and 14 months, which is significantly shorter than with metal braces.
Every six to eight weeks, you'll visit our dental office for a routine progress check, where your dentist in Gainesville will make sure your smile is on the right track and hand you your next sets of aligners. When it gets towards the end of your treatment, we'll also discuss retainer options for you to ensure that your treated teeth don't stray from their ideal positions.
Who is a Candidate For Invisalign?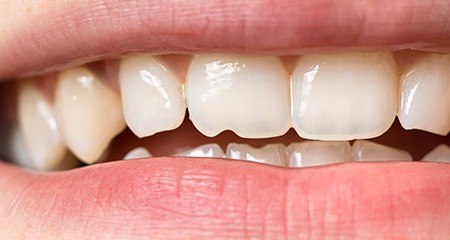 Many patients aren't aware of how versatile Invisalign aligners are. They are an effective solution for correcting a variety of minor bite problems, misalignment, crowding, and gaps. However, in order to achieve your desired results, you'll need to commit to following your customized treatment so you can remain on track with your timeline.
The best way to learn whether you're a good candidate for Invisalign is to contact our dental office to schedule a consultation. During your appointment, we'll let you know of any possible limitations and discuss other options with you, if there are any.
What are the Benefits of Invisalign?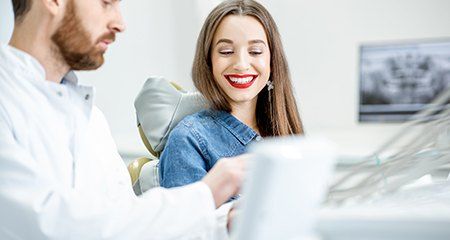 The most obvious benefit of Invisalign aligners is that you won't have to crowd your mouth with noticeable brackets and wires to straighten your teeth. However, the procedure also offers other advantages, including:
Custom-fitted orthodontic trays make it easier to speak.
Smooth plastic trays prevent irritation, bleeding, and soreness caused by metal.
Removable aligners allow you to eat what you'd like.
Removable aligners also make it easier to brush and floss your teeth while you're undergoing treatment.
Aligners are easy to clean.
More comfortable routine appointments.
If you have any questions about how you can start your journey towards a straighter and more beautiful smile, be sure to contact our team of professionals. We also offer additional financing options through CareCredit and Lending Club for patients who are interested in manageable, low-interest payment plans.
Understanding the Cost of Invisalign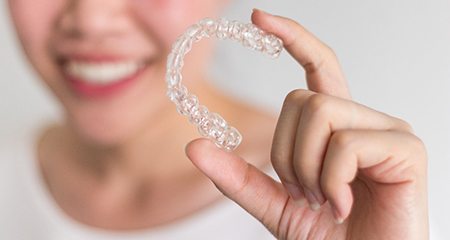 Invisalign can help you achieve your smile goals whether you are struggling with minor misalignment or a more complex orthodontic issue, but how much does this discreet treatment cost? While the best way to find out the precise answer is to schedule an initial consultation with our team, we know that many patients prefer to do their research online. In this section, we are going to break down a few important things to consider when it comes to the price of your clear aligners.
Learn More
Factors that Affect the Cost of Invisalign
Invisalign in Gainesville isn't a one-size-fits-all treatment, which means there isn't a one-size-fits-all answer when it comes to price. There are, however, a few all-encompassing factors that will determine the final cost, including:
If you are straightening both arches of teeth.
The complexity of your treatment (ex: addressing a small gap vs. severely crooked teeth).
The length of your treatment.
The Difference Between Invisalign VS Smile Direct Club™
When Invisalign introduced clear aligners in the late 1990s, the field of orthodontics was forever changed. In the last 20 years, many companies have attempted to replicate this innovative treatment, causing many patients to wonder which teeth-straightening service is right for them. To start, one of the biggest differences to consider is that treatment with Invisalign is monitored by a licensed professional while alternatives, like Smile Direct Club, are a "do it yourself" clear aligner kit. While the upfront low cost draws many patients in, plenty can go wrong when you have to handle everything from the impressions to the trays on your own. More times than not, this causes complications that require treatment from a dental professional, which means you don't end up saving any of your hard-earned money after all. Simply put, it's best for your smile and your wallet to stick with the pros from the start.
Does Dental Insurance Cover Invisalign?
Typically, Invisalign isn't covered by dental insurance providers. However, dental plans vary from patient to patient, so it's always a good idea to double-check with your carrier! If you need any assistance with this process, we would be more than happy to help. Just bring the necessary documents with you so we can handle the paperwork on your behalf.
Options for Making Invisalign Affordable
Just because you don't have dental insurance or your plan doesn't cover Invisalign doesn't mean that your treatment has to break the bank. Our team happily accepts low-to-no interest financing through CareCredit and Lending Club. Both of these options allow qualifying patients to break up the cost of even the most extensive treatments into manageable monthly chunks!
Our team genuinely wants you to have the smile you've always wanted, and we are happy to work with you on the financial component of your care to ensure cost isn't what stands in your way. Schedule your initial consultation today so we can provide you with the treatment and the payment option that makes sense for you!
Invisalign FAQs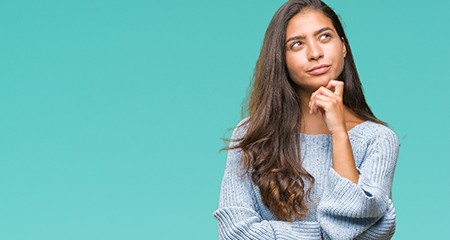 If you're looking for a more comfortable and discreet way to straighten teeth, look no further than Invisalign in Gainesville! This unique orthodontic treatment offers an array of benefits when compared to bulky traditional metal braces. During your consultation, we'll be more than happy to answer any questions or concerns you may have. In the meantime, we invite you to look over the following Invisalign FAQs to learn more!
Does Wearing Invisalign Aligners Hurt?
The metal wires and brackets of traditional braces are notorious for rasping painfully against the lips, cheeks, and tongue. Thankfully, this isn't a problem with Invisalign! These clear aligners are crafted from a single piece of smooth plastic that should glide past your soft tissues effortlessly.
However, it's normal to experience some slight soreness with any orthodontic treatment, including Invisalign. You may feel some discomfort when starting a new set of aligners, but it should be minimal and fade within a few days. To manage your symptoms, you can take over-the-counter pain relievers as directed, apply an ice pack, or start each new set of aligners before going to bed.
How Long Do I Need to Wear My Aligners for Each Day?
The removable nature of Invisalign aligners is one of its most popular benefits, but it's also one of its greatest responsibilities. It's up to you to make sure you wear your aligners often enough and keep your treatment on track. You should be wearing them for at least 20-22 hours a day. Any less than that and the lack of pressure could cause your teeth to shift out of place, which could increase the length and cost of your treatment!
What Foods Should I Avoid During My Invisalign Treatment?
Traditional braces require you to adhere to a restrictive diet. On the other hand, you don't have to give up any of your favorite foods or drinks during your Invisalign treatment. Simply take your aligners out, enjoy your snack, beverage, or meal, then give your teeth a quick brush before popping your aligners back into place.
Exposing your aligners to food or drinks can break, bend, or warp them. Not only could this make wearing your aligners more uncomfortable, but your teeth could potentially be moved into the wrong positions. So make sure you always take your aligners out whenever you eat or drink anything other than plain water.
How Are Invisalign Aligners Cleaned?
It's important that you clean your aligners every day to keep them from becoming discolored and protect your smile from cavities. You should rinse them off every morning and night and brush them gently with a soft-bristled toothbrush. However, most normal toothpastes are too abrasive and will scratch and weaken your aligners, so check with us to see if your toothpaste is safe for them. There are also plenty of Invisalign cleaning solutions and systems that can help keep your smile sparkling.
Can I Get Invisalign If I've Had Metal Braces Before?
Did you have traditional braces earlier in life, but find that your teeth have become crooked again years later? Invisalign is a great option for addressing mild to moderate orthodontic issues, so there's a good chance it can help you regain your results. However, every case is different, so you'll need to come see us for a consultation to make sure that Invisalign is the best choice for you.
Are you ready to get the happy, healthy, and beautiful smile you deserve? Give us a call and schedule your Invisalign consultation today!