Dental Crowns – Gainesville, FL
Restoring Smiles with Amazing Beauty and Strength
Although your teeth are coated in enamel (the strongest substance in the human body), it's not completely indestructible. When they decay, crack, or sustain any other type of dental damage, it can become difficult to chew without pain, sleep comfortably, and, sometimes, even concentrate. Fortunately, Drs. Art & Kim Mowery can intervene with lifelike, durable, and long-lasting dental crowns in Gainesville. If you'd like to learn more about this restorative dental solution, you can schedule an appointment with our team or read on!
Why Choose Drs. Art & Kim Mowery for Dental Crowns?
Dentists Who Trained at the Las Vegas Institute for Advanced Dental Studies
Our Team Has Placed Over 5,000 Porcelain Restorations
Sedation Dentistry Available for Nervous or Anxious Patients
---
What is a Dental Crown?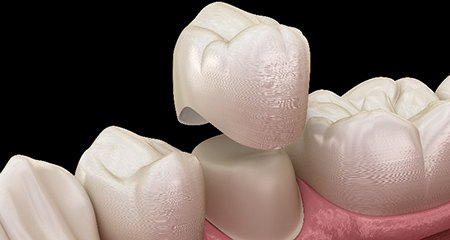 A dental crown is a restoration that we can use to correct broken, damaged, heavily decayed, or misshapen teeth. Designed to cover the entire visible portion of your tooth, dental crowns get their name because they literally cap your enamel. Once placed, patients can enjoy a strengthened, more aesthetically pleasing smile. Dental crowns are also used to protect teeth after root canals, covering the more sensitive portion of the tooth.
---
The Dental Crown Process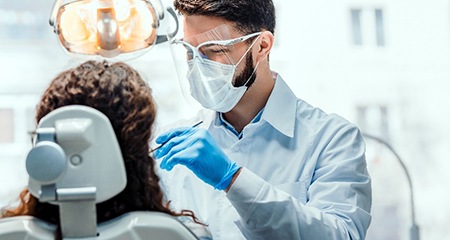 The dental crown process is spaced out over two appointments. At the first one, we will treat the tooth before filing it down and taking the necessary impressions. These impressions are sent to the dental lab so the lab artisans can craft your dental crown. Since this process usually takes 2-3 weeks, we will provide you with a temporary crown in the meantime.
Once your permanent crown has arrived at our office, you'll return for your second appointment. At this time, we will remove your temporary crown and cement your permanent one in place. After checking your bite and ensuring you are happy with the results, we'll review how to take care of your new smile, and you'll be set to go home!
---
The Benefits of Getting a Dental Crown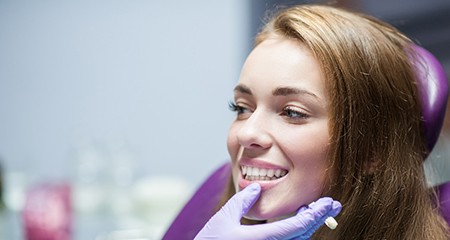 Dental crowns:
Restore a damaged tooth to full function
Are crafted from lifelike materials that blend in seamlessly with your existing smile
Are extremely versatile (they can be used with root canals, dental implants, and more!)
Can last for more than a decade with the right best practices in place
Are easy to care for; consistently brushing, flossing, and visiting us for a dental checkup and cleaning will keep them in good shape.
If you're struggling with a cracked, decayed, or otherwise damaged tooth, don't wait to schedule an appointment with us. The sooner you do, the sooner we can treat it, stopping the root of the problem from progressing any further.