Sedation Dentistry – Gainesville, FL
Relieve Dental Anxiety for an Enjoyable Dentistry Experience
Who Should Consider Sedation Dentistry?
In addition to providing patients a friendly, welcoming environment and working hard to make them feel comfortable, the Exceptional Dentistry & Sedation Center team also offers options for sedation dentistry in Gainesville, FL to help patients feel completely comfortable and free from stress or pain. If you'd like to find out more about dental sedation, contact our Gainesville, FL team today. We'll be happy to answer any questions you may have or reserve a time to discuss your treatment options.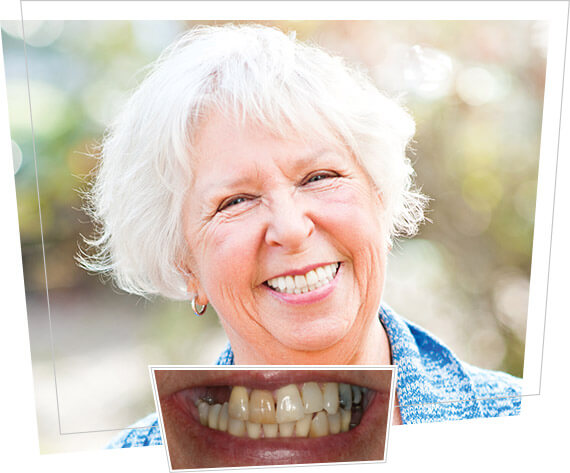 Dr. Mowery didn't fix this mess overnight. It took a little while because he had to cure gum disease, do some bone grafting, place a few implants, and polish it off with some gorgeous porcelain crowns and veneers. He's really good and he's really gentle, but I opted for the sedation every time. What can I say? I'm still a first rate chicken when it comes to the dentist.
-Marilyn
---
Who Should Consider Sedation Dentistry?
If you answer yes to any of the following questions, you may want to consider dental sedation:
Do you experience fear or anxiety prior to visiting the dentist or while you're in our office?
Do you have difficulty getting numb with local anesthesia alone?
Do you have sensitive teeth, gums, or a gag reflex?
Are you afraid of needles?
Do you want to complete numerous procedures in a single office visit?
---
Oral Conscious Sedation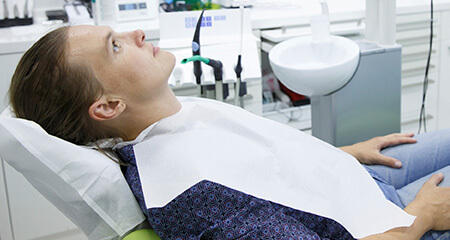 For patients who experience extreme dental phobia, oral conscious sedation can be very beneficial because patients take the sedative medication before they even leave home. The sedatives are taken in pill form about an hour before the procedure. By the time patients reach our practice, they will already be in a state of relaxation. Keep reading to learn more about how oral conscious sedation works and if you're eligible for this method of dentistry.
What Is Oral Conscious Sedation?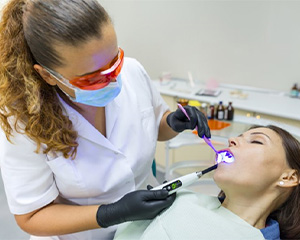 This form of sedation dentistry is an incredibly popular and effective way to help patients feel significantly more relaxed during their visit. Its effects are more calming than nitrous oxide but still gentler than IV sedation (and even general anesthesia). During your initial consultation, if your dentist determines you're a good candidate for this treatment, they'll prescribe you a pill that you will take before coming in for your next scheduled appointment. The relaxing effects should come into play over time, typically within an hour. Once you arrive for your visit, you should already feel in a more euphoric state. The good news is that you'll still be conscious enough to walk and respond to simple questions or commands. You'll simply feel somewhat groggy.
How Does Oral Conscious Sedation Work?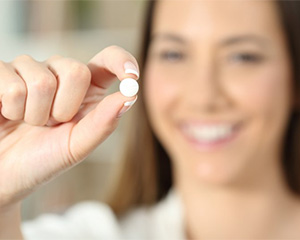 Patients who undergo oral conscious sedation typically feel as though they've "zoned out" as they may experience a dream-like state and tingling in their limbs. Due to its relaxing effects, our team usually recommends this method for those who require lengthier or more complex procedures. This will allow patients to remain calm and still, which in turn can let us work more efficiently.
Because the sedatives have a long-lasting effect, patients will need to have a friend or family member drive them to and from our office. Throughout treatment, we'll monitor patients' vitals to ensure their safety. Once your procedure is over, you may continue feeling heavy or groggy, but this should wear off over the next few hours. For this reason, your friend or family member will help take you home afterward so you can be sure to get plenty of rest for the remainder of the day.
Are You a Good Candidate for Oral Conscious Sedation?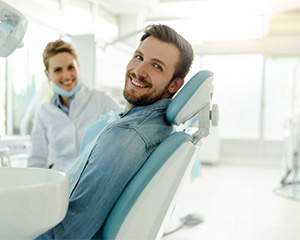 The only way to know for certain if you're eligible for oral conscious sedation is by scheduling an initial consultation with our team. Your dentist will review your medical/dental history, your concerns, and smile goals, and determine if this method is viable for you. In many cases, those who have good overall health should be able to receive oral conscious sedation. As long as you aren't breastfeeding, have respiratory problems, or any other medical issues, we tend to suggest this method for patients who:
Have some fears or anxieties toward dental appointments
Are fearful of masks or needles
Typically postpone or cancel appointments due to fear
Require longer dental visits or complex procedures
---
Nitrous Oxide Dental Sedation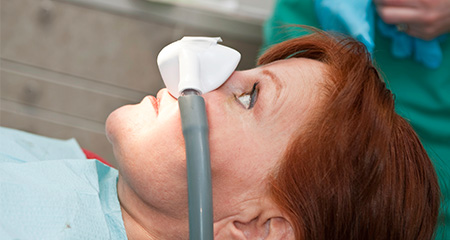 One of the longest used and most popular forms of sedation, nitrous oxide is inhaled through a nasal mask and creates a euphoric effect that earned it the nickname, "laughing gas." Nitrous oxide is ideal for patients with mild anxiety or phobia, those who need extra help numbing in addition to local anesthesia, and those who have sensitive teeth, gums, or gag reflexes. The fast acting sedative relaxes patients within a few minutes of administration, dosage is quickly and easily adjusted throughout treatment, and best of all, the sedative effects wear away just as quickly as they set in. That means patients can drive themselves to and from our office and go back to their regular routine directly following their appointment. We may use nitrous oxide in combination with oral conscious sedation to ensure patient comfort and relaxation throughout even the most advanced treatments.
---
IV Sedation Dentistry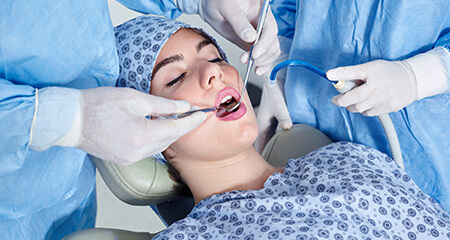 IV sedation is the deepest form of sedative we offer. One step below general anesthesia which renders patients fully unconscious, IV sedation allows patients to deeply relax and enter a state of near sleep. While under the sedative, patients will have dramatically decreased pain response and remain very relaxed. Like nitrous oxide sedation, the sedative can be adjusted by the dentist throughout the procedure to allow patients to rest peacefully. We'll administer the sedative intravenously. That means we inject the sedative into the blood stream. While under the effect of the sedative, we'll monitor patients' vital signs to ensure safety. After the procedure, patients need to have a friend or family member drive them home. They should also plan to rest for at least 12 hours following treatment.
There are numerous benefits to IV sedation, including the following:
Unlike oral medications that take an hour or more to become effective, IV sedation takes effect quickly.
The doctor is able to adjust dosage throughout treatment to ensure patients remain comfortable.
Because the treatment is administered entirely under the doctor's care, IV sedation is safe and effective.
Patients typically remain awake and responsive during treatment, though they are very relaxed.
In most cases, patients don't remember much or any of their treatment.
---
Sedation Dentistry FAQs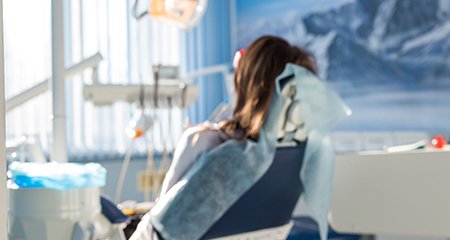 Whether you've never used sedation dentistry before or it's been a long time, it's natural to have questions on your mind. What does it feel like? Will I remember anything? Is it covered by dental insurance? Don't worry – our team is here to answer all of these questions and more right here. If you don't see the answer you're looking for, then don't hesitate to get in touch with our team.
What does it feel like to be sedated at the dentist?
The answer to this question depends entirely on the type of sedation you're receiving. For example, nitrous oxide, also known as "laughing gas," causes patients to feel light, euphoric, and, of course, relaxed. Oral conscious sedation is the next step up, resulting in an even deeper state of calm. So much so, in fact, that you may even doze off during your treatment. The most powerful form of sedation dentistry, IV sedation amplifies the relaxation experienced with oral conscious sedation.
Will I remember anything with dental sedation?
Even with mild forms of sedation dentistry, like nitrous oxide, you may not remember much of your procedure. This is a priceless benefit because it helps alleviate dental anxiety moving forward. In short, you'll be awake and able to respond to verbal commands while being in a complete state of relaxation. It's the best of both worlds!
Is sedation dentistry covered by insurance?
Generally, sedation dentistry is considered a "luxury." Therefore, it typically is not covered by dental insurance providers. Of course, there are some exceptions. In cases where a patient has a disability or the procedure is exceptionally complex, your dental plan may include some coverage. If you are unsure of your benefits but are interested in sedation dentistry in Gainesville, don't hesitate to let our team know. We would be happy to help you better understand the cost!
Is sedation dentistry worth it?
Whether you experience anxiety in the treatment chair or need extensive dental work done, sedation dentistry is well worth it. Not only does it help you stay calm and comfortable during your appointment, but it also helps create a positive association with your dental office moving forward. If you want to learn more about the benefits of sedation dentistry, don't hesitate to get in touch!
How long does dental sedation last?
Again, the answer depends on the type of sedation dentistry you're receiving. For example, the effects of nitrous oxide dissipate almost instantly – you can even drive yourself home after your appointment! Conversely, the effects of oral conscious sedation could last for the remainder of your day. Therefore, you'll need to have a trusted adult pick you up afterward. Lastly, IV sedation. While the majority of the effects will wear off soon after your procedure, there is a good chance you'll feel groggy. Again, you will need to arrange for a trusted adult to drive you home.