TeethXpress Full Arch Dental Implants – Gainesville, FL
A Fast, Effective Solution for Multiple Missing Teeth
Missing teeth in the upper or lower jaw can severely compromise your smile and make it difficult to maintain optimal oral health. While a denture supported by dental implants is a great choice for many patients, they're not for everyone. If you don't have enough jawbone density to support an implant denture and don't want to undergo a bone graft, or if you're interested in shortening your journey to a new smile, TeethXpress may be for you! Dr. Art Mowery and Dr. Kim Mowery are certified to provide TeethXpress full arch dental implants in Gainesville, FL, a convenient option for patients with several missing teeth. This full arch, same-day solution restores the missing tooth root and also rebuilds your smile with the help of natural-looking dentures.
What Is TeethXpress?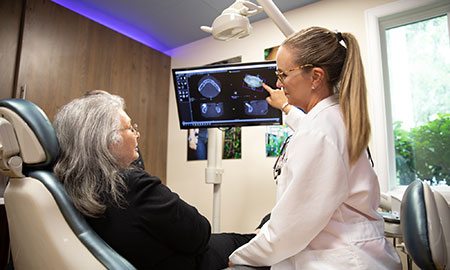 When you are missing several teeth, getting dentures is a practical solution for restoring your smile. However, traditional dentures rest on the top of the gums and require a close fit or adhesives to stay in place. Implant dentures combine the benefits of dental implants with dentures, but they typically require multiple visits to the doctor, long treatment times, and a strong jawbone. Now there's an even better solution: TeethXpress.
Full arch dental implants with the TeethXpress solution avoid these issues by restoring the missing teeth with dental implants and a retrofitted denture. TeethXpress is an accelerated solution that can be completed in as little as one or two visits. To learn more about this unique dental implant treatment and if it's right for you, don't hesitate to give us a call and schedule your consultation.
The TeethXpress Process
Our doctors are certified TeethXpress dentists which means they can place implants and restore them right in our dental office. If you are a candidate, the surgery will involve placing up to six dental implant posts into the jaw and then attaching your existing dentures, or a set of custom-made dentures, to the top of the implant in the same visit. Our doctors are IV sedation dentists so you can rest assured that the placement surgery will be as comfortable and pleasant as possible. The implants will need some time to heal, but you can start 'using' your new set of teeth right away.
Is TeethXpress Right for Me?
Patients who do not want to wait weeks for extensive teeth replacement can benefit most from the TeethXpress solution. The TeethXpress system uses specially designed implants to ensure a stable foundation regardless of the location of the implant. The implants are available in several sizes and shapes and are also adaptable for most levels of bone. This means even patients with some degree of bone loss will not need to undergo a bone grafting procedure before getting missing teeth replaced. Since we can place up to eight implants on each arch, patients missing several teeth can look forward to a secure and stable foundation for dentures with TeethXpress.
Benefits of TeethXpress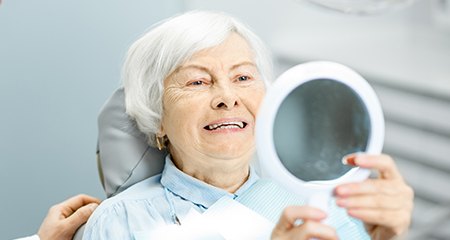 Completed in one or two visits
Enjoy immediate results
Secure and convenient fastener construction
No more loose dentures
Little to no pain or discomfort
Stops bone loss immediately
Provides close to same chewing power as natural teeth
Specially designed implants available in a variety of shapes and sizes
Usually removes the need for bone graft
Four to eight implants on each arch
Long-term results with good dental hygiene