Emergency Dentistry – Gainesville, FL
We'll Relieve Your Pain as Quickly as Possible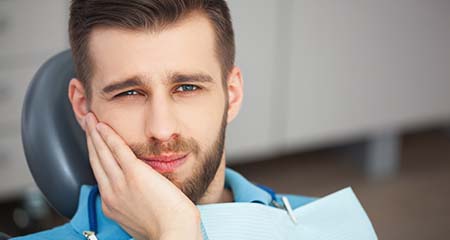 When you have a toothache that won't go away or if there's a painful crack that needs to be fixed, you need to see an emergency dentist in Gainesville as soon as possible. At Exceptional Dentistry & Sedation Center, we've been able to see 98% of emergency patients on the same day and provide them with the treatment they needed for immediate pain relief. Contact us at the first sign that you need urgent dental care for same day emergency dentistry in Gainesville, FL!
How to Handle Common Dental Emergencies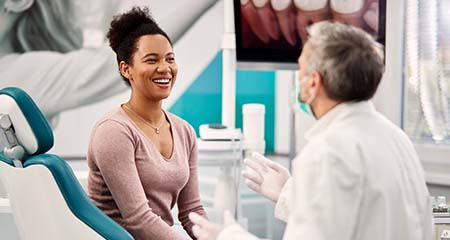 Some emergencies are due to physical trauma (getting hit the face, breaking a tooth on a hard piece of ice) while others are a consequence of poor oral health (toothaches caused by an infection). No matter what the situation, it's important to take proper first-aid steps while you're waiting for your appointment.
Toothaches
Floss well around the affected tooth; the pain might be due to a piece of food that got stuck. If that doesn't work, make an appointment as soon as you can if the toothache doesn't go away within a couple of days. Over-the-counter pain medications and ice packs can help control discomfort or swelling. A toothache can be treated many different ways; a simple filling might be used in some cases while root canal therapy might be necessary in others.
Chipped/Broken Teeth
Collect any loose pieces of the tooth and rinse with warm water. A broken tooth won't always cause pain, but ibuprofen and other medications can help if it does. Depending on the extent of the damage, the tooth may need to be extracted altogether.
Knocked-Out Tooth
You absolutely need to see a dentist in Gainesville as quickly as possible within an hour or you might lose any chance of replanting the tooth. Pick the tooth up by the crown (the end used for chewing) and try to put it back in place; if you can't, put it in a glass of milk or a saline solution until you can reach our dental office.
Lost/Filling Crown
Like with a broken tooth, gathered any loose pieces of the restoration. If the tooth is sensitive, you can apply some clove oil on a cotton swab to relieve it temporarily. You can also seal the exposed area with dental cement to protect it before your appointment.
How to Prevent Dental Emergencies
You can never completely avoid the risk of a dental emergency, but you can take steps to protect your smile. Avoid biting down on ice or hard, inedible objects that can damage your enamel, and always wear a mouthguard while playing sports. (You should also get a guard if you grind your teeth at night.) To prevent oral infections, brush and floss twice a day, and don't forget to visit Exceptional Dentistry and Sedation Center twice a year for preventive checkups and cleanings.
The Cost of Treating Dental Emergencies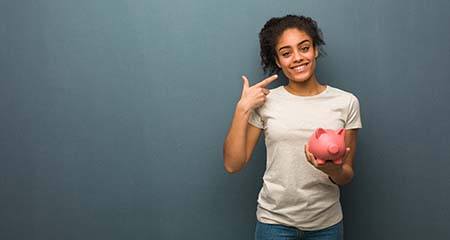 There are many different kinds of emergencies, and thus there are many different ways to treat them. The final cost will vary depending on what's necessary to save your smile. Our experts will examine your situation and give you an estimate you can trust.
Learn more about the Cost Of Dental Emergencies
What Factors Affect the Cost of Emergency Dental Treatment?
Unsurprisingly, treatment for a dental emergency tends to cost more than your standard checkup and cleaning. However, many variables must be considered when determining how much you can expect to pay. For this reason, we can't provide you with an estimate unless you come into our office for an evaluation.
The primary factor affecting your cost of treatment is the specific nature of damage to your smile. For instance, if your toothache is due to an infection, your treatment may be anything from a round of antibiotics to a root canal or even a tooth extraction. Without examining your smile, we can't tell which for sure which procedure you'll need.
Another relevant factor is your dental insurance. Minor restorative treatments like fillings may be up to 80% covered by insurance, while major procedures such as root canal therapy or tooth extractions are often only covered at 40% to 50%. Our team members can gladly look over your plan and maximize the benefits you qualify for.
Your Financial Options
At Exceptional Dentistry & Sedation Center, we are proud to offer top-notch dental care that doesn't break the bank. That's why we work with most major dental insurance providers and will even handle all of the paperwork and answer any questions you may have.
If you're uninsured, or if you still need help paying for your treatment, we have options for you. We have partnered with CareCredit and Lending Club. Both of these companies have helped countless patients across the country fund their medical care. In many cases, you may qualify for a loan that comes with very little or even zero interest!
The Importance of Seeking Emergency Dental Care Right Away
When a dental emergency happens out of nowhere, it can be tempting to avoid scheduling an appointment until you have a free moment in your schedule, or you have saved up a bit of money. However, putting off treatment could end up costing you more in the long run. If your toothache is caused by a cavity, for example, then it may only require a filling if you contact us right away. Waiting too long, though, could cause the decay to worsen to the point that you need a more expensive procedure like a root canal. Calling us as soon as the emergency occurs will not only save you money, but it will get you out of pain and back to smiling brightly much faster!
Dental Emergency Frequently Asked Questions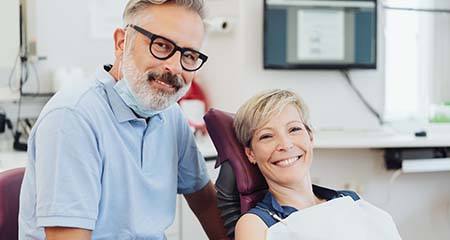 Most people have no idea what to do in the case of a dental emergency. However, the last thing you want to deal with when you injure a tooth is confusion. That's why we've created this list of frequently asked questions and answered them for your convenience. If you have a dental emergency in Gainesville, be sure to call Exceptional Dentistry & Sedation Center!
How Can I Manage the Pain?
Depending on your individual pain tolerance, you might need some additional help managing your dental discomfort until you can reach our dental office. Some possible solutions include:
Topical pain reliever like Orajel
Over-the-counter pain medications like ibuprofen or acetaminophen
Ice pack to reduce both pain and swelling
It's worth noting that just because you are able to temporarily alleviate your pain, that doesn't mean your oral health problem is solved. You should still call us to schedule an appointment right away.
Can I Go to the Emergency Room for a Dental Emergency?
It's highly recommended that instead of going to the hospital, that you see your emergency dentist in Gainesville for treatment. Even though the staff at your local emergency room are trained medical professionals, they simply do not have the specialized training required to successfully treat specific dental emergencies. In general, you should only go to the ER as a last resort, such as if we are closed and you have knocked out a tooth.
What Happens If You Wait Too Long for Treatment?
In the case of some emergencies, like a knocked-out or broken tooth, getting to our dental office in a timely manner can mean the difference between saving and losing your tooth. However, even if all you have is a minor toothache, you should still contact us right away to determine the root cause of your pain. Putting off treatment can ultimately make your pain worse. This is because, unlike general medical conditions like the common cold, dental health problems typically worsen the longer you ignore them. What starts out as a small cavity could turn into a larger infection that requires root canal therapy if you don't seek treatment soon enough.
What If I Have a Dental Emergency While Out of Town?
First things first, try not to panic. If you damage a tooth or have serious dental pain, try and find a dentist in the area who will treat your immediate problem and allow you to enjoy the rest of your vacation relatively stress-free and painlessly. Then, give us a call and schedule an appointment for when you get back in town. That way we can thoroughly examine your tooth and see if any further treatment is needed.