Dental Implants — Gainesville, FL
Replace Your Missing Teeth from the Roots Up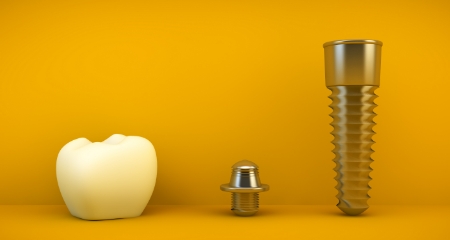 Dental implants are not a new technology by any means. In fact, archaeologists have found signs of primitive dental implants in skeletal remains that are thousands of years old. However, this technology has improved dramatically in the last few decades. We now utilize the most effective and biocompatible titanium materials and know how to craft implant posts to provide the best fusion with the existing bone and improved support for replacement teeth. Contact our team to reserve your consultation time to discuss dental implants in Gainesville, FL, and begin your journey to a complete, healthy smile today.
---
Why Choose Exceptional Dentistry & Sedation Center For Dental Implants?
Entire Dental Implant Procedure Conveniently Completed Under One Roof
Permanently Replace Any Number of Missing Teeth
Dental Insurance Accepted & Several Flexible Financing Options Available
Choosing an Implant Dentist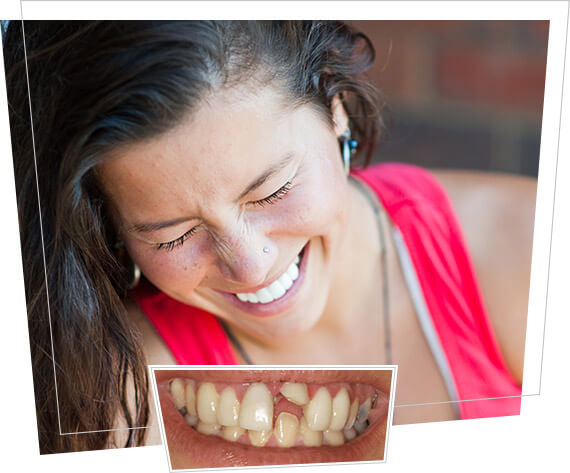 I Broke off a front tooth and I needed a dental implant. Dr. Art was kind and gentle. He turned my worst nightmare into a fairy tale.

I love this team!
-Risa
Watch My Video
---
What Are Dental Implants?
Natural teeth are comprised of two parts: the shiny white crown that you see when you smile, and the hidden roots that anchor it in place under the gumline. Traditional tooth loss solutions like dentures and dental bridges only replace the crowns of missing teeth. Without a root structure to stabilize them, these restorations typically leave much to be desired in terms of functionality and comfort, and they need to be replaced every several years.
On the other hand, dental implants replace your missing teeth from the roots up to truly give you the next best thing to your home-grown pearly whites. A small titanium post is inserted into the jawbone where the missing tooth used to be, effectively replacing its roots. There, it will fuse with the surrounding bone tissue and continue to stimulate the jaw while providing a strong foundation for the final restoration. This custom-made, lifelike crown, bridge, or denture is held in place with a small connector piece called an abutment on top of the dental implant. The end result is a smile that looks, feels, and functions just like natural!
---
The 4 Step Dental Implant Process
Dr. Art Mowery and Dr. Kim Mowery proudly serve patients in Gainesville with a range of general, cosmetic, preventive, and restorative dentistry services. As the area's specialist in implant dentistry and the TeethXpress® full arch system, our highly experienced doctors maintain a high standard of care and ensure every patient receives an exceptional level of service. While dental implant treatment can look significantly different from patient to patient, the four main steps are the same for everyone. To learn more about what to expect from this process, simply keep reading below!
Initial Dental Implant Consultation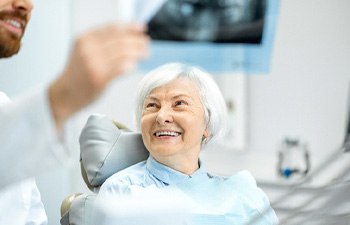 The long-term success of a dental implant relies on the right foundation and remaining infection-free. You will need an initial consultation with our team to ensure it's the right treatment for you. Besides a visual examination, digital images and a CT scan are taken to fully assess your oral health and structures. Drs. Art and Kim Mowery may find you need additional procedures before your placement surgery, such as periodontal therapy, tooth extractions, bone grafting, or a sinus lift.
Dental Implant Surgery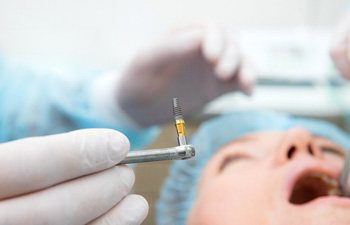 After your initial implant consultation, the next step in the dental implant process is the surgical placement of the implant posts into the jaw. The procedure may sound complicated, but it's actually fairly straightforward. This can be completed under sedation, so you won't feel anything throughout the procedure!
Dental Implant Osseointegration & Abutment Placement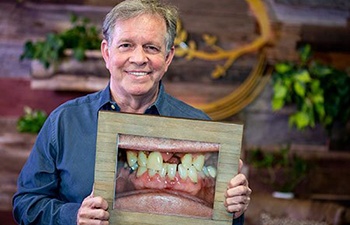 Once the jawbone and implant fuse together, the foundation is set for the final restoration. This unique process is called osseointegration, and it's what will give your dental implant all the lifelike qualities of a natural tooth, including its functionality and longevity.
After that is complete, you'll return to our office for a second minor surgery to receive your abutments. These are small metal connector pieces that are attached to your implants, allowing us to secure a personalized restoration into place.
Delivery of Dental Implant Restorations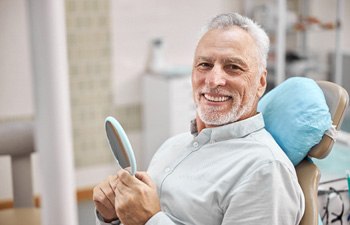 When you've fully healed, you'll return to our office to restore your dental implants. This is when we place your custom-made crown, bridge, or denture and introduce you to your brand-new smile! If needed, our team will adjust your replacement teeth to ensure you have your desired results. Once your new teeth are attached, your newly rebuilt grin will look incredibly natural.
---
Benefits of Dental Implants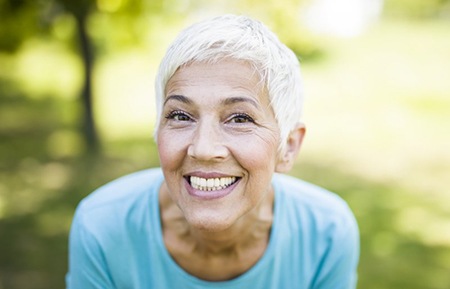 When trying to decide how you want to replace your missing teeth, it isn't always easy because of all the many factors you must consider. However, the many benefits of dental implants in Gainesville are hard to overlook. From stability and functionality to longevity and a natural look and feel, you can't go wrong with this superior method of tooth replacement. Continue reading below to learn more about all of the ways that dental implants can improve your smile, health, and overall quality of life!
Day-to-Day Benefits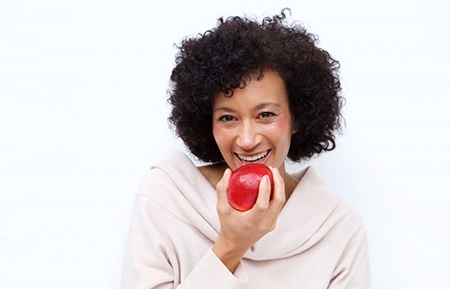 Natural look and feel –Dental implants are designed to look and feel like a real tooth. Not only does the titanium post mimic the root structure of your tooth, but the prosthetic is made to match your natural tooth color, size, and shape, so you'll have a beautifully blended smile.
Unparalleled stability – Your implants are firmly embedded in your jaw, so you won't have to worry about them slipping or falling out like you would with regular dentures.
Full functionality – When you're eating, drinking, or speaking with dental implants, it should feel the same as it did with your real teeth. You'll be able to enjoy a healthy, varied diet and speak without worrying about accidentally making embarrassing clicking or whistling sounds.
Health Benefits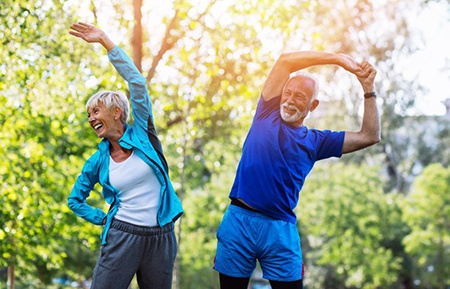 Prevention of jawbone loss – After a tooth goes missing, that section of the jawbone starts to deteriorate because the tooth's roots are no longer stimulating it. A weakened jawbone can eventually lead to not only an aged facial appearance, but an increased risk for gum disease and additional tooth loss. As the only tooth replacement to bring back the root structure of missing teeth, dental implants in Gainesville keep your jawbone strong and healthy.
No gum irritation – Dentures that rest on the gums can cause sores and irritation, especially if they don't fit correctly. Implant restorations, on the other hand, don't sit atop the gums, so they won't cause discomfort.
Preservation of natural teeth – Traditionally, a dental bridge relies on two of the remaining teeth for support, so these teeth need to be permanently altered. In contrast, dental implants can support themselves and don't require any modification of your natural tooth structure.
Long-Term Benefits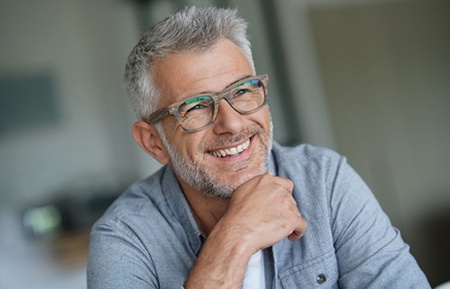 Saved money in the long run – Unlike traditional dentures and bridges that need to be replaced every few years, dental implants are designed to last for decades, if not for the rest of your life. Over time, dental implants will prove to be the more cost-effective solution.
High success rate – The average success rate for dental implants is between 95 and 98 percent, even after more than 10 years.
Regular maintenance – Dental implant care actually requires very little work. A toothbrush, toothpaste, dental floss, and mouthwash are all you need at home to keep your new teeth healthy at home in between regular checkups with an implant dentist in Gainesville.
---
Who Dental Implants Can Help
Not only are dental implants the premier tooth loss solution, but they are incredibly versatile as well! Practically any healthy adult with a strong jawbone can get dental implants. Even if you're not a good dental implant candidate initially, we may be able to get you ready for a new smile with a few preliminary treatments! Whether you're missing, one tooth, multiple teeth, or a whole arch of pearly whites, dental implants can help.
Missing 1 Tooth

Single implants can be used to support one dental crown or two attached crowns to replace an individual tooth or two in a row.
Missing Multiple Teeth

Patients missing three or four consecutive teeth will need to place a dental implant on either end of a row of connected crowns that create a fixed bridge.
Missing All Teeth

If you are already a denture wearer or you're preparing for your first set of dentures, we'd like to talk to you about supporting your prosthetic denture with dental implants. Traditional dentures are held in place through suction, and though they've come a long way from the old, uncomfortable dentures of the past, they are still not the ideal solution. That's where dental implants come in. They help prevent the deterioration of healthy bone and gum tissue and offer increased stability for any denture. We will typically attach these dentures to between four and six implant posts, and offer both fixed and removable prosthetics based on patient preference. In some cases, we may be able to refit an existing denture to be attached to implants.
Learn More About Implant Dentures
We also offer TeethXpress® as an option for patients with dentures who want a quick and convenient way to restore their smile with full arch dental implants. This procedure involves placing several implants in areas where the tooth is missing and attaching a set of dentures to the implant for a secure fit. All of this can be completed in a single visit.
---
Understanding the Cost of Dental Implants
At Exceptional Dentistry & Sedation Center, we have decades of experience using dental implants in Gainesville to help people regain their oral health and self-confidence. But even with the many benefits implants provide, we understand that cost is still a primary consideration. Each person is so unique, so we can't provide a single figure for cost that holds true for everyone, but we can explain the variables that go into the final price. And if you'd like a more specific idea of what your implant treatment would cost, get in touch anytime to schedule a consultation to discuss the cost of dental implants in Gainesville, FL.
Types of Dental Implants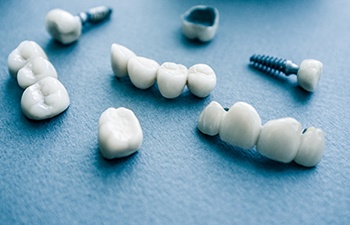 In regards to cost, the type and number of implants you'll need is a main consideration. There are traditional implants, the most commonly used type, and also mini-dental implants. These are often ideal for patients with decreased bone density in their jaws.
Your total number of missing teeth and the type of restoration you need (dental crown, bridge, or denture) will determine how many implants are necessary. A single tooth replacement only requires one implant. An implant-supported bridge is anchored by 1-2 implants, while dentures typically need 4 – 8 implants per arch.
Stages of Dental Implant Treatment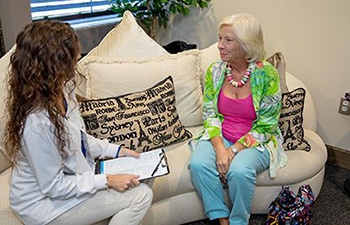 The implant process is completed in stages and typically takes 3-12 months from start to finish (six months is average). For many people, this alone makes their procedure more affordable because they don't have to pay for everything all at once.
During your consultation, we'll discuss the fees for each step listed below and provide you with a total cost estimate.
Your initial consultation, which includes digital X-rays and a 3D cone beam scan.
Some patients may need preliminary procedures like tooth extractions, bone grafting, or a sinus lift, which can be a significant addition to their implant budget
Implant placement, along with anesthesia and sedation
The implant restoration (crown, bridge, or denture)
Are Dental Implants Worth the Investment?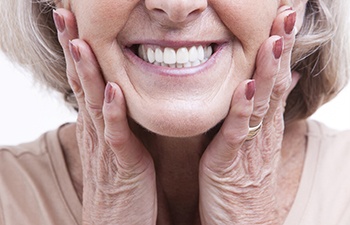 In the many years we've been working as an implant dentist in Gainesville, we've consistently gotten feedback from our patients that implants are one of the best decisions they've ever made.
One of the main reasons implants are so popular is that they're the only option that can last 30 years or more. In fact, they're actually considered a permanent solution to tooth loss and, unlike traditional bridges and dentures, don't require costly, ongoing adjustments and replacements.
Not to mention that you're restoring your smile with an incredibly life-like option that looks and feels like your own teeth while also preserving your jawbone. It's hard to put a price on great dental health and a smile that looks as good as it feels.
Does My Dental Insurance Cover Dental Implants?
Our first priority is making the best recommendations for our patients and delivering outstanding dentistry, so we never compromise quality of care for insurance's sake. Having said that, we're more than happy to help you maximize your benefits and we do process claims for many major providers and PPO plans. In addition, we also offer CareCredit financing to break up your payments into monthly installments. If you'd like a personalized estimate of cost or want us to look at your insurance plan, give us a call today. We're here to help!
---
Advanced Dental Implant Procedures
If you want to fill the gaps in your smile with dental implants, bone loss in your jaw could be a significant obstacle. Implant posts need healthy bone tissue to fuse with for stability; without that tissue, they won't be able to stay in your mouth without causing significant pain or other oral health issues. But that doesn't mean you have to give up on getting implants! You could still be a candidate for the procedure after a successful advanced dental implant procedure like bone grafting in Gainesville, FL at the Exceptional Dentistry & Sedation Center. Call our dental office today to schedule an appointment and start clearing the path for strong, durable new teeth.
Bone Grafting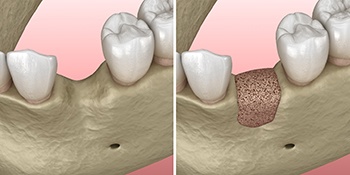 If you have teeth that were missing for a long time, experienced some type of injury that damaged the jaw, or suffered from gum disease, you may be a potential candidate for bone grafting. Of course, while the procedure is often part of the dental implant process, it's not always a necessary step; it's intended for patients that would otherwise lack the bone density that implant posts require.
To determine whether or not you need a bone graft, we'll first need to confirm that you're in good health overall. Then we'll use digital X-rays to find the exact locations where the implants need to be placed and check the bone density levels in those areas.
The tissue used for the graft will normally come from another part of your body such as the tibia, the hip, or another part of your jaw; in other cases, a donor's bone tissue or a synthetic material could be used instead. After the mouth has been appropriately numbed, we'll make an incision in the gums to expose the intended site of the graft. The material will be surgically placed in these areas before the gums are shut again. You will then need to wait a few months for the graft to fully integrate with the jaw.
---
Dental Implant Salvage
Can you move your dental implants even the slightest bit? Or are you noticing signs of an infection, such as pain and swelling? Dental implant failure doesn't occur very often, but if it does your new smile will be at risk. Dr. Art and Dr. Kim can check your mouth to figure out why the procedure failed so that they can fix the problem and – ideally – let you keep your implant-retained restorations.
---
Dental Implant Post-Op Instructions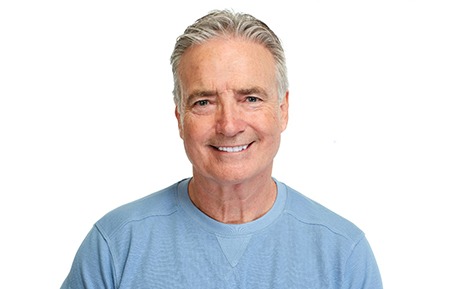 Once your implants are placed, you'll begin the recovery period. Don't worry, we'll let you know exactly what to expect, the types of symptoms you can be on the lookout for, and how to help your smile heal. If you ever experience intense or unexpected pain, please don't hesitate to contact our office for your next steps. Read below to learn our dental implants post-op instructions in Gainesville.
What to Do Directly After Dental Implant Surgery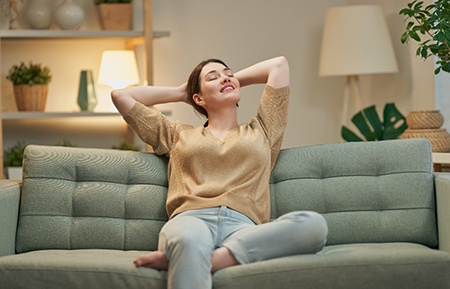 Your main priority is to leave the affected area untouched so the forming blood clot can heal smoothly. To ensure this can happen, follow these simple rules:
Do not drink with straws.
Do not spit – use tissues or swallow saliva instead.
Do not smoke for at least the first day.
Keep your fingers and tongue away from the affected area(s).
Common Side-Effects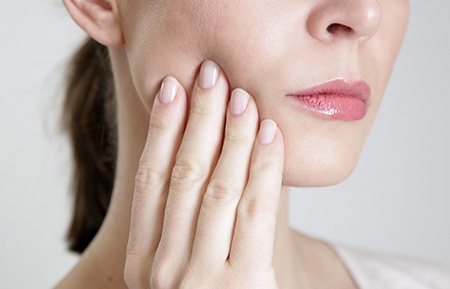 There are some mild side effects that you may experience, especially in the first few days after your treatment for dental implants in Gainesville. These can include:
Bleeding: Intermittent bleeding may occur, which can be managed by applying light pressure and gauze. This can go on for multiple days, but it will gradually get better.
Swelling: Over the first 72 hours after your surgery, you may experience swelling. A cold/warm compress will help numb pain but also ease your swelling.
Discomfort: Some slight pain is expected. Take your medication as prescribed to get relief.
These side effects are temporary. If they do not gradually subside as time goes by, contact us right away for guidance and possible treatment.
Diet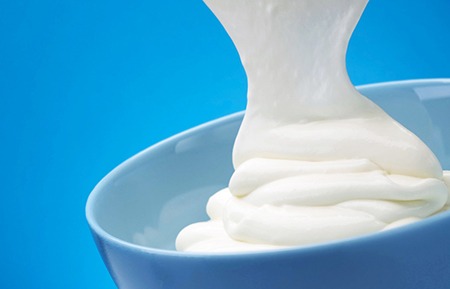 During the first few days of your recovery, try to stick to softer foods that aren't difficult to chew, including:
Yogurt
Ice cream
Mashed potatoes
Pudding
Soup (not super hot)
Scrambled eggs
Pasta
As soon as you feel up to it, you can return to your normal diet. That said, our implant dentist in Gainesville recommends that you limit your consumption of crunchy or tough foods. Also, do your best to avoid chewing directly on the implant site(s) to promote healing.
Health & Oral Hygiene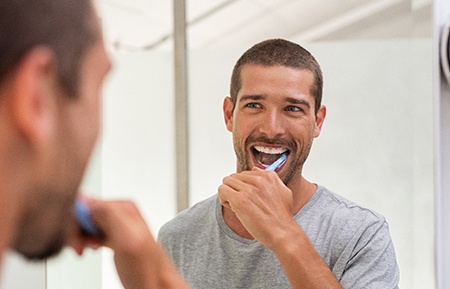 The day after surgery, you can begin to brush your teeth as usual – just be careful of the implant site(s). Ideally, after your meals, rinse your mouth out at least 2 to 3 times a day with salt mixed into water. If you have it, you can use a prescription mouth rinse to speed up the healing process. Be sure to avoid mouthwashes that contain alcohol because they dry out the mouth, which doesn't help recovery.
What to Do After Your New Teeth Are Attached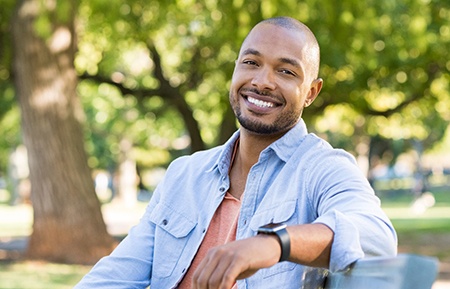 Now that the hard part is over, all that's left to do is smile! You may feel some minor sensitivity around your crown, bridge or denture, but this is temporary and easy to control with pain medication. There is no swelling, bleeding, or extensive recovery so you can resume your life like normal on the same day!
---
Maintaining & Caring for Your Dental Implants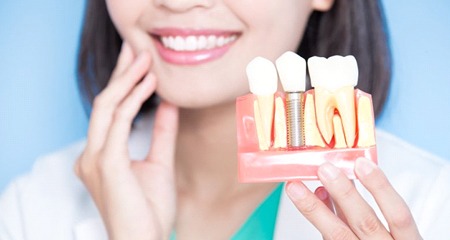 If you want to fill the gaps in your smile with dental implants, bone loss in your jaw could be a significant obstacle. Implant posts need healthy bone tissue to fuse with for stability; without that tissue, they won't be able to stay in your mouth without causing significant pain or other oral health issues. But that doesn't mean you have to give up on getting implants! You could still be a candidate for the procedure after a successful advanced dental implant procedure like bone grafting in Gainesville, FL at the Exceptional Dentistry & Sedation Center. Call our dental office today to schedule an appointment and start clearing the path for strong, durable new teeth.
Make Oral Hygiene a Priority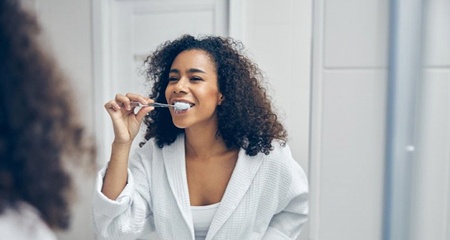 To keep your implants, gums, and remaining teeth healthy, you'll need to brush twice each day and floss every day. Brushing and flossing, which is virtually the same with dental implants as it is with real teeth, is crucial in warding off plaque and bacteria. These habits minimize the risk of gum disease, which is the leading cause of dental implant failure. Rinsing with an antibacterial mouthwash is also a good idea, as it can remove bacteria from areas of your mouth that your toothbrush and floss cannot reach.
Eat a Healthy Diet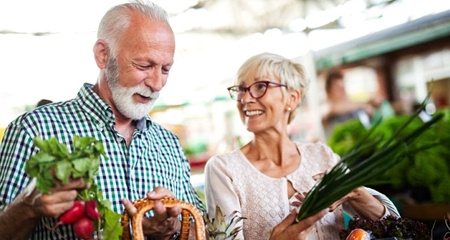 While dental implants in Gainesville let you chew any food you want with ease, you should still try to maintain a balanced diet. After all, overconsumption of sugar and starch (which dissolves into sugar) feeds bad bacteria in your mouth. These bacteria then produce acid waste that inflames gum tissue and erodes tooth enamel, contributing to gum disease and cavities, respectively. To lower risks such as these, switch out sugary snacks and beverages for healthier choices like leafy greens, fresh fruits, and lean proteins.
Break Bad Habits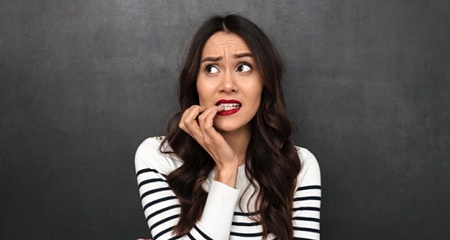 Many habits that could harm natural teeth can also damage dental implants and their restorations. One of the worst culprits is tobacco use; studies have shown that people who smoke have a risk for gum disease and dental implant failure that is more than twice as high as nonsmokers. Furthermore, bad habits like biting your nails, chewing on pens or pencils, grinding your teeth, and using your teeth to open packaging can all irreversibly damage your dental implants.
Protect Your Dental Implants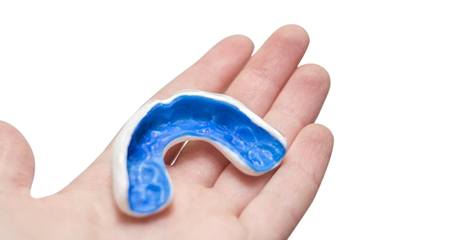 Just like you would wear a helmet to protect your head when playing sports, you should also wear a mouthguard to shield your teeth if there is a risk of impact to the face. Dental injuries are not only painful, but they may lead to your dental implant (or natural teeth) having to be removed and replaced. Ask your implant dentist in Gainesville about a custom mouthguard if you regularly participate in sports.
Schedule Regular Dental Checkups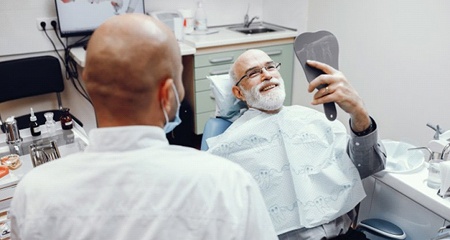 Visiting a dentist twice a year doesn't suddenly become less important after you've received dental implants. Regular checkups let our team examine your implants, make sure they're still in good condition, and treat any problems as early as possible.
All-On-4 Dental Implants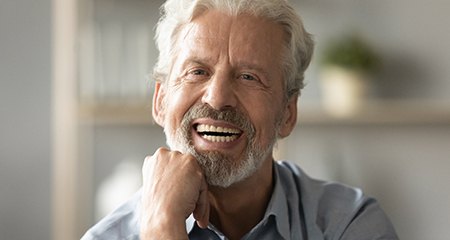 As opposed to replacing every individual tooth in an arch, All-On-4 dental implants can restore your entire smile at once – sometimes even in one day! This option eliminates many of the downsides of traditional dentures, like unexpected slippage and clicking noises coming from your mouth. It also requires less surgery than normal implant dentures. If you have lost all of the teeth on one or both arches, All-On-4 dental implants is likely a good solution for you!
Dental Implant FAQs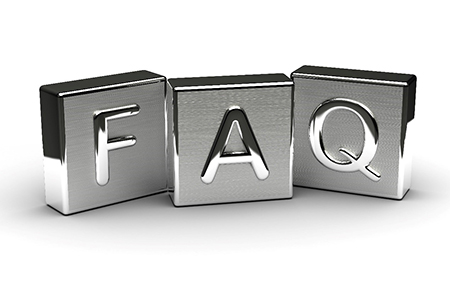 Dental implants in Gainesville are the most reliable method of replacing lost teeth; however, they are a big investment. Don't feel apprehensive about the road ahead. We will take the time to explain each step in your treatment and address your concerns during your dental implant consultation. In the meantime, here are the answers to a few frequently asked questions.
Can I take dental implants out?
No, only a trained dental professional can remove them, such as in cases of failure. A dental implant isn't like other treatments because it replicates both the root and crown. A titanium post is surgically placed in the jaw to replace the root. Your bone will fuse to it through a process called osseointegration, allowing it to stay in place for a lifetime with the proper care. Although you can't take out the post, some implant dentures are removable to make them easier to clean.
How successful are dental implants?
Dental implants have over a 95% success rate; however, various factors affect their lifespans, such as your health and lifestyle. The biggest threat to their success is a preventable infection called peri-implantitis. You can keep the infection at bay by brushing, flossing, and using a daily mouthrinse. Don't forget to have a cleaning and checkup every 6 months. Your implant dentist in Gainesville will also recommend avoiding anything that may damage them, like using your teeth as tools or chewing on inedible objects. In some situations, the location of the post can also affect how long it will last. The back teeth naturally undergo more wear and tear than the front, which can affect their longevity.
What should I do if my dental implant feels loose?
After your bone has integrated with the post, your dental implant should never feel loose. If it doesn't feel stable, it could indicate a serious issue that may lead to dental implant failure. You don't want to ignore a loose dental implant because if you wait too long, your implant dentist may not be able to save it. Your dentist will identify the problem, such as a loose restoration or bone loss, to create the solution you need to restore your smile.
Am I too old for dental implants?
There's not an age limit for dental implants, but older patients can be at risk of certain complications. With age comes various medical conditions and medications, which can affect your body's ability to heal and fight infections. Your implant dentist will review your medical history and any medications you're taking to ensure there aren't any risks for preventable problems. If you have any pre-existing conditions or take medications, you can still get dental implants. Your dentist will create the personalized plan you need to replace your lost teeth safely and effectively. This may involve adding additional procedures to your treatment plan, like periodontal therapy or bone grafting. With an individualized strategy and qualified dentist, you're never too old for dental implants.
More to Explore
Preventive Dentistry Restorative Dentistry Cosmetic Dentistry Orthodontics & Invisalign Sedation Dentistry View All Our Services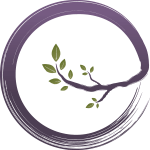 Have Questions? Get Answers.
Please fill out this short form and we'll be in touch.