Benefits of Dental Implants – Gainesville, FL
A Superior Method of Tooth Replacement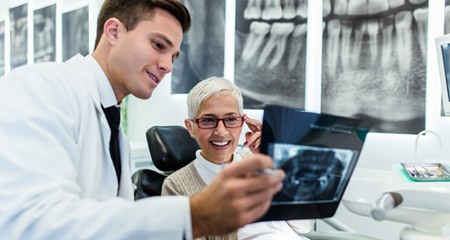 For adults who are missing one, multiple, or even all their teeth there are many benefits of dental implants in Gainesville, FL to replace missing. In fact, Drs. Art & Kim Mowery have the knowledge, experience, and skill set to walk you through the entire process from start to finish. We know what it takes to create a new and improved smile, and we want to make sure you are happy with the results. But before we get too far, you might still be contemplating the option of having dental implants placed. If so, allow us to share all the wonderful benefits that come along with this restorative treatment. Should you have any questions, please don't hesitate to contact us.
---
Tooth Replacement Options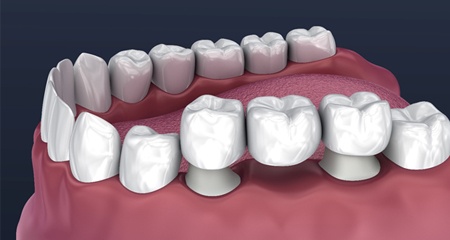 We know you have options, which is why we want you to feel confident in your decision when it comes to your dental health. Apart from dental implants, below are the two other ways you can address missing teeth.
Fixed Bridge
If a traditional bridge is what you want, you can expect a less invasive procedure in comparison to dental implants. However, there will be some altering of your natural teeth. In combination with dental crowns, our team will use both teeth on either side of the gap to serve as anchors. We will file down these two natural teeth to make sure the dental crowns or "caps" will fit snugly. Once your bridge prosthetic is ready, we will put it into place. Your bridge will consist of three crowns fused together, two of which fit over your natural teeth and the other serving to cover the gap in your smile.
Traditional Dentures
Patients who are missing all their teeth can find help with traditional dentures. Using artificial teeth, which are situated onto a gum-colored base, dentures sit on top of the gum line and require your own natural suction to keep them in place. Should you need your top row of teeth replaced, the denture will be made to cover the entire roof of your mouth. If it's the bottom you need, it will be made to look like a horseshoe so there is enough room for your tongue.
---
Benefits of Dental Implants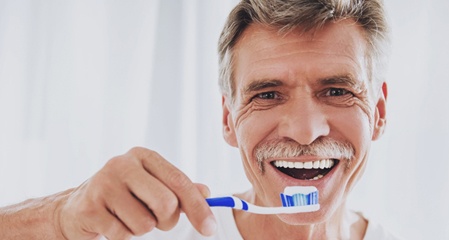 High Success Rate – Typically, the average success rate for dental implant placement is between 95 and 98%! You can feel confident and comfortable knowing your implants procedure will move along smoothly.
Greater Stability – Your implants are surgically placed by an implant dentist in Gainesville, so you won't have to worry about them accidentally slipping or falling out.
Improved Appearance and Confidence – Not only will you retain a fuller, more youthful facial appearance but having a complete smile will increase your confidence level, too!
Natural Look and Feel – Dental implants are designed to look and feel like a natural tooth. Not only does the titanium post mimic your natural tooth root, but the prosthetic is made to match your natural tooth color, size, and shape, so you have a beautifully blended smile.
Full Functionality – When eating, drinking, or speaking with dental implants, you'll feel much more confident because of the functionality they offer.
No Possible Decay – The one difference between your natural teeth and your implant is that the artificial tooth doesn't have a root system or the possibility of decaying. While this doesn't mean you can slack on your dental hygiene routine, it does mean you don't have to worry about that particular tooth or teeth developing cavities.
Minimal Maintenance – Keeping your dental implants clean is important, but fortunately, it requires little work. A toothbrush, toothpaste, dental floss, and mouthwash are all you need at home to keep your implants healthy.
Longevity – Unlike traditional dentures and bridges that need to be replaced over time, your dental implants are designed to last decades, if not a lifetime!