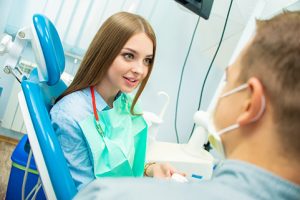 Did you know that 1 in 6 people suffer from dental anxiety? In this post, find out the top 4 questions you should ask about sedation dentistry before undergoing treatment.
#1 – Is Sedation Dentistry Safe?
Absolutely. Under the care of a trained professional, sedation dentistry is both safe and effective. Our dentists have advanced medical education in the most innovative relaxation techniques and we prioritize patient care above all else.
#2 – What Types Of Sedation Dentistry Are Available?
At our practice, we specialize in all forms of sedation dentistry. The treatments below are listed in order of increasing strength and potency:
Inhalation Sedation (good) Nitrous Oxide or "laughing gas," is a sweet tasting gas that the patient receives through an inhaler placed over the nose. Simply breathe in, and the medication takes effect.
Oral Sedation (better)In this method, patients take a small pill by mouth before they come to the office for their appointment, and then another small dose once they arrive.
IV Sedation (best)With this treatment, sedative medications are given to our patients intravenously. You won't be completely asleep, but you most likely won't remember your dental treatment because you'll be so relaxed. This is the preferred method for patients with high anxiety or undergoing longer procedures.
#3 – How Long Will The Medication Last?
The length of the effects of the medication will differ depending on the sedation method used:
Inhalation Sedation – Nitrous oxide wears off within a few minutes after the treatment is discontinued. Patients can return to work without any "hangover" effect.
Oral Sedation – The medication effect will linger for a few hours after the treatment is over. Patients should schedule their appointments in the afternoon and take half a day off work or school.
IV Sedation – Intravenous treatment will wear off within a few hours at most. You'll still need to arrange for someone to keep an eye on you as you rest at home after your procedure.
With oral, IM, and IV sedation be sure to arrange for transportation to and from our office, since the medication will prevent you from driving.
#4 – What Does Being Sedated Feel Like?
Most patients report being happy and relaxed. Some state they feel a warm, slightly euphoric feeling, and many say they don't remember having their dental treatment because they are so at ease. It's also very common to fall asleep while sedated.