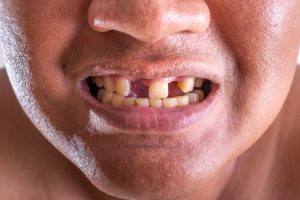 Tooth loss is more common than you might think. By age 17, 7 percent of people in the United States have lost at least one permanent tooth due to decay, according to the Centers for Disease Control and Prevention. By age 50, 69 percent of adults have lost at least one permanent tooth. Why is tooth loss so prevalent? The biggest reason, even more so than injury, is tooth decay caused by not taking proper care of teeth. When you lose a tooth, dental implants in Gainesville are a great option. However, if you want to keep all of your teeth as long as possible, follow these 7 steps to keep your oral health in great shape.
1. Brush Twice a Day for Two Minutes
Use a brush with soft bristles to clean your tongue and teeth. This will remove bits of food and bacteria from your mouth that, when left behind, could cause cavities and gum disease. In addition, use a toothpaste with fluoride in it. Fluoride is a naturally occurring mineral that makes your teeth stronger, especially with daily use.
2. Brush First Thing in the Morning
Even if the last thing you do before bed is brush your teeth, you still need to do it in the morning. Plaque can accumulate on your teeth, tongue, and gums overnight. When you don't brush away plaque in the morning, it hardens into tartar, which can only be removed by a dental professional. Tartar can lead to gum disease and also cause a serious case of "morning breath."
3. Don't Overbrush
Brushing more than twice a day can actually wear down your enamel, exposing the layer of dentin underneath. Dentin houses tubes that are connected to the nerves of your teeth, making them more sensitive to extreme temperatures.
4. Don't Brush Too Hard
Enamel is strong, but it can be worn down with years of aggressive brushing. Brushing too hard can result in sensitivity. Think of brushing more like polishing an eggshell rather than scrubbing.
5. Floss Every Day
Flossing removes plaque from between your teeth. Neglecting to floss means that tartar can build up and cause gum infections.
6. Avoid Soda
Even if you opt for diet soda, its high level of acidity can erode your enamel. To avoid sensitivity issues in the future, limit your consumption of soda and other acidic foods and beverages.
7. Visit Your Dentist Twice a Year
Your dentist in Gainesville can give your teeth a professional cleaning to remove tartar. They can also diagnose problems that could result in tooth loss early enough to prevent that problem.
You only get one set of adult teeth in your life, so it's important to take care of them. Follow all the steps listed above to keep your natural teeth for as long as possible.
About the Author
Dr. Art Mowery has been awarded an Affiliate Associate Fellowship in the American Academy of Implant Dentistry and is the first and only dentist in Gainesville, FL to achieve this distinction. He is also a published author and international speaker on implant dentistry. To learn more about saving your teeth and preventing the need for implants, contact Dr. Mowery at (352)-332-6725.