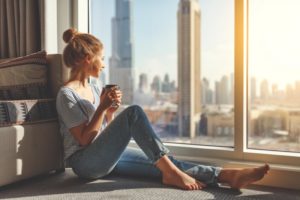 The COVID-19 pandemic and the resulting world-wide social distancing orders have dramatically changed what everyday life looks like. While the quarantine limits many of our usual activities, there is still a lot we can do to take care of our oral health. In fact, practicing great dental hygiene and avoiding dental emergencies may be able to help lower your risk of catching the coronavirus. Your Gainesville dentist shares some helpful tips for keeping yourself and your smile healthy throughout the COVID-19 pandemic.
The Importance of Oral Health in COVID-19
Keeping your mouth clean does a lot more than protect you from cavities in quarantine. A thorough dental routine plays a key role in preventing a wide variety of oral health issues like gum disease and dental infections. These problems trigger a response from the immune system, which leaves it weaker and less capable of fighting off other infections or viruses, like COVID-19. Practicing great oral hygiene and preventing these oral health concerns is an excellent way to keep your immune system strong.
At-Home Oral Hygiene Tips
As you adjust to your new routine of spending more time at home, improve your at-home oral hygiene by:
Washing your hands before and after brushing your teeth.
Brushing for two minutes twice a day and flossing all your teeth daily.
Reducing your risk of cavities by limiting your sugar intake and how often you snack.
Preventing Dental Emergencies: More important Than Ever
Thankfully, your Gainesville emergency dentist is still providing urgent dental treatment during the COVID-19 pandemic. Dental staff adhere to exceptionally high standards of sanitation and disinfection to ensure their patients get the care they need as safely as possible. However, in an effort to limit our trips outside, it's more important than ever that we do our best to prevent dental emergencies in the first place. To keep your pearly whites healthy and intact, be sure to:
Limit or avoid hard or sticky foods like popcorn kernels and dried fruit.
Quit bad dental habits like chewing on pen caps, ice, or your fingernails.
Only use your teeth on food and not for opening packages, containers, or bottles.
Your oral health plays an important part in protecting your overall wellbeing, especially during a pandemic. Keep these tips in mind and you can look forward to leaving the COVID-19 quarantine with a happy, healthy smile!
About the Practice
At Exceptional Dentistry & Sedation Center in Gainesville, FL, every treatment is founded on excellent preventive care. With a thorough routine checkup from our highly experienced dentists twice a year, we can spot and stop a majority of health issues before they cause you any unnecessary discomfort or damage. If you need immediate dental care during the COVID-19 pandemic, we are committed to your safety and have bolstered our rigorous infection control measures with additional steps to keep our office as clean and healthy as possible. If you have any questions or concerns about taking care of your smile during COVID-19, please contact us via our website or at (352) 332-6725.