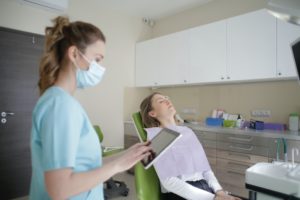 You've experienced many changes to your way of life over the last several weeks. Besides wearing masks and staying home, you've also gone without dental care. Thankfully, your dentist in Gainesville has reopened their doors, but not without implementing new protocols to help stop COVID-19. As you return to the office for the first time, you might think some of the changes are unnecessary, like temperature checks, even when you aren't feeling ill. Believe it or not, these simple extra precautions can make a big difference in combating coronavirus. Here's why your dentist has made certain changes.
Why do I need a pre-screening if I don't feel sick?
Although there's still much to learn about COVID-19, we know people can carry the virus, even if they aren't experiencing any symptoms. As a result, your dentist will treat everyone as if they have the virus to ensure the safety of patients and staff. Not only will patients be asked a few brief questions about their health, but the dental team will also undergo the same screening each day before work.
Why are they taking my temperature at the dentist's office?
Your dental office will use a non-contact temperature check to help prevent introducing viruses and illnesses into the facility. This can identify people who are asymptomatic, which means they aren't exhibiting any symptoms. Research shows patients can be contagious for several days before and after showing any signs of illness. A fever can be the first indicator you might be ill, which is why your dentist will require a temperature check for both patients and staff.
Why can't I bring my gloves inside?
Gloves are an essential aspect of personal protective equipment. They provide a barrier between germs and your skin. While they are beneficial, they cause an issue with cross-contamination. As a result, your dentist will ask you to leave your gloves outside the office. There will be alcohol-based hand sanitizer and antibacterial hand soap available to help keep your hands clean.
Why do I have to wear a mask?
Masks are another important piece of personal protection equipment, especially during situations where you can't keep your distance from others, like during your dental visit. A mask prevents you from spreading germs or illnesses to others. It also acts as a protective barrier to reduce your exposure to viruses and illnesses. Your dental team will wear a mask at all times while in contact with patients.
Extra Steps for Your Safety
Dental offices are already pretty clean; however, a safe dentist in Gainesville will go the extra mile to keep staff and patients healthy. With the latest protocols in place, you can rest assured your dental office will be the cleanest place you'll visit all day.
About Exceptional Dentistry & Sedation Center
Exceptional Dentistry & Sedation Center is committed to patient safety during the COVID-19 pandemic. Our office has adopted several new safety measures to keep our office germ-free. If you have any questions about the measures that we're taking to keep you healthy, contact our office today to speak with a member of our team.