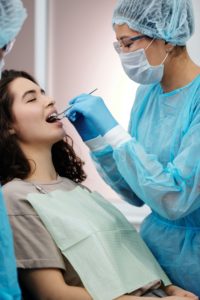 Your teeth aren't just important for a beautiful smile. They are also invaluable to your oral functions and quality of life. Although teeth can last for a lifetime, that's not a reality for many adults. Damaged or lost teeth can cause reoccurring pain, making it difficult to perform simple everyday tasks, like chewing. Not to mention, you may feel the weight of your dental health affecting your self-esteem. Your dentist can turn back the clock with full mouth reconstruction. They'll use a personalized strategy to revamp the health, function, and aesthetics of your smile. Although no two cases are the same, here's what you can expect while recovering from full mouth rehabilitation.
Full Mouth Reconstruction Recovery
Full mouth reconstruction isn't a single procedure. Instead, it involves restorative and cosmetic procedures to treat case-specific issues, like tooth decay or missing teeth. Since every smile is unique, the recovery process varies for everyone. Depending on the procedures necessary, here's what the road ahead may look like:
Dental Fillings/Bonding
Modern fillings are made of tooth-colored composite material. They are the go-to solution to treat cavities; however, the resin can also fix minor aesthetic imperfections, like chips and cracks. The procedure takes about 1-2 hours, but if you're treating several teeth, your dentist may recommend more than one appointment. After the anesthetic wears off in a couple of hours, you can resume your normal activities.
Metal-Free Restorations
Crowns and bridges are typically made of all-ceramic material because it mimics enamel. Whether a crown or a bridge, the process usually takes 2 appointments. Your teeth are prepared, and your dentist will take an impression of your mouth during your first appointment. You'll return to your dentist in a couple of weeks after the dental lab has finished crafting your restoration. After your restoration is in place, your tooth may be a little tender for a few days, so you'll want to eat softer foods. You can manage your discomfort using an OTC pain reliever.
Dental Implants
A dental implant is unlike any other tooth-replacement method because it recreates both the root and crown. You'll require oral surgery to place an implant post into your jawbone. Your mouth will be sore for a couple of weeks, but it can take several months for your bone to heal. Once your bone has integrated with the post, you'll need a second minor procedure to attach an abutment to the post. When your gums have healed, your dentist will connect your restoration. You'll walk out of the office with a new tooth that feels completely natural.
Your dentist will explain each step of your treatment and what you can expect during your full mouth reconstruction consultation.
About Dr. Art Mowery
Dr. Mowery earned his dental degree from the University of Florida College of Dentistry before continuing his studies in advanced specialties, like dental implants, cosmetic dentistry, and reconstructive dentistry. If you're ready to achieve the healthy, functional, and attractive smile you deserve, contact our office today to schedule your consultation.