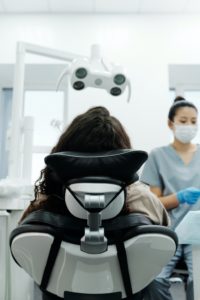 If you're ready to stop living with daily oral pain or hiding your smile from embarrassment, you may be a candidate for full mouth reconstruction. Various restorative and cosmetic procedures are used to enhance the health, function, and appearance of damaged or missing teeth. Since no two smiles are the same, full mouth rehabilitation is different for everyone. Here's what you can expect depending on your treatment plan to feel confident about the road ahead.
Full Mouth Reconstruction Procedures & Recovery
Your first step to a better smile will involve a consultation with your dentist. After examining your mouth and learning more about your goals, they'll create a personalized strategy to revamp your smile, which can include one or more procedures. It's impossible to determine how long the process will take and what your recovery will look like without first creating your treatment plan. However, here's what you can expect with the most common procedures used for full mouth reconstruction.
Dental Fillings
Fillings are the go-to solution to treat early stages of decay, but you don't need to fret about dark spots blemishing your smile. Modern fillings are made of a composite resin, which is shaded to match the color of your enamel to blend in. Multiple fillings can be placed in a single appointment, and most patients can resume their normal activities on the same day.
Crowns and Bridges
Crowns are the most common restorative procedure because they can repair teeth or provide a layer of protection. They can also be used along with other procedures, like root canals or fixed bridges. Crowns are made of all-ceramic material to look natural. Whether restoring a compromised tooth or supporting a bridge, you can expect it to take 2 appointments. The first will involve prepping your tooth and taking impressions while the final visit is needed to place your new restoration after the dental lab has finished making it. Your tooth may be a bit sore for a couple of days, but you can manage any discomfort by eating softer foods and taking an OTC pain reliever.
Root Canal Therapy
A root canal can save an infected tooth by extracting the inner layer, called the pulp. It's an effective method to stop toothaches while preventing an extraction. A root canal can be done in a single appointment; however, you may need a dental crown to cover the tooth. The tissue surrounding your tooth may be sensitive or swollen for a couple of days.
Invest in the Smile You Deserve
Although every treatment plan differs, you don't have to stress about a long, painful recovery. You have more options than ever to renovate your smile.
About Dr. Luis Rodriguez
Dr. Rodriguez achieved his dental degree from the University of Florida before continuing his training in advanced studies, like dental implants and full mouth reconstruction. He is an award-winning dentist who is committed to excellence. If you're ready to improve your smile and quality of life, contact our office today to schedule your consultation.