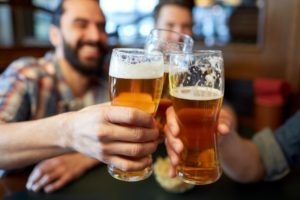 When it's been a long week at work, some people love the idea of meeting up with friends for an ice-cold beer or two on the weekend. It's well-known that alcoholic beverages like red wine can impact your teeth, but perhaps you've never seen beer discussed in an oral health context. Keep reading to learn from your dentist in Gainesville about what frequent beer drinking could do to your smile.
Dry Mouth
If you drink alcoholic beverages often, you can become dehydrated. This will hinder your body's ability to produce enough saliva to keep the pH of your mouth at an ideal level. Fewer food particles and bacteria will be washed away as well. Be sure that you are drinking plenty of water to stay hydrated, especially when you are drinking alcohol.
Periodontal Disease
You might not consider beer a sugary drink, but it fits that category more than you may think. The bacteria in your mouth feed off this sugar, resulting in plaque formation. This sticky substance can harden into tartar when it isn't removed right away.
Ultimately, this makes it more difficult to clean your gums effectively, and you can develop an infection known as periodontal disease. When left to progress, this can lead to gum recession, loose teeth, and tooth loss. Be sure that you maintain excellent oral hygiene practices to keep your smile in great shape.
Staining
Just like other pigmented beverages, beer can cause teeth to stain over time. This can appear as either yellow or brown tints on their surface. If you like to drink darker beers, like porters and stouts, this can cause even more discoloration. To reduce this, drink a glass of water while you are enjoying your beer. This way, the beer will be rinsed off your teeth quicker before having a lasting effect. Grab your toothbrush once you finish the beverage.
Enamel Erosion
In addition to affecting the appearance of your teeth, beer can cause structural damage. The enamel that protects your teeth is the strongest substance in your entire body, but acidic beverages like this are its nemesis. Over time, beer can erode the enamel and that harm is permanent. This will expose the yellow dentin underneath and cause additional discoloration and sensitivity. Keep in mind that darker malt beers tend to be more acidic than light beers. Sours are typically the most acidic type of this beverage.
Every beer enthusiast should understand the effects that it has on their teeth. By taking precautionary steps, you can enjoy your weekend brewski with your smile none the worse for wear!
About the Practice
At Exceptional Dentistry & Sedation Center, we offer unparalleled expertise and state-of-the-art services to meet your family, cosmetic, or reconstructive dental needs. Our three dentists have extensive training at the Las Vegas Institute for Advanced Dental Studies where they teach doctors from all over the world the art and science of cosmetic, restorative, and physiological dentistry. If you are going to enjoy beer from time to time, being diligent about your oral hygiene will help your teeth stay safe. We can provide a dental cleaning and exam to ensure your oral health remains in good standing. You can schedule an appointment on our website or by calling (352) 332-6725.