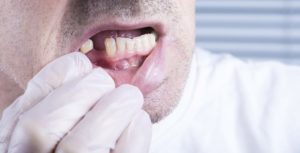 Did you know your teeth are important for more than just chewing? Not only do they create a beautiful smile, but they also allow you to speak clearly. Losing even a single tooth can have detrimental consequences for your oral health, quality of life, and self-esteem; however, missing teeth can also affect the shape of your face. Research has found an incomplete smile can make you look 10 years older, and here's why.
Tooth Loss Affects Your Facial Appearance
Every tooth is necessary for a strong, healthy jawbone. A missing tooth can cause you to lose up to 25% of your jaw's density within the first year. Your bone will continue to shrink as more time passes.
As you lose more of your jaw's density, your remaining teeth won't have the support they need. They can drift from their positions, increasing your risk of cavities, gum disease, and tooth loss.
With each additional tooth you lose, your bone will continue to deteriorate. Your facial tissues won't have adequate support, which can lead to a sunken appearance. Wrinkles and sagging skin can occur prematurely, making you look many years older than your chronological age.
Look Younger with a Complete Smile
Although teeth are meant to last for a lifetime, 120 million Americans are missing at least one. Whether you've lost one tooth, multiple teeth, or an entire arch, it's best to replace them promptly; however, it's never too late to fill the gaps in your smile.
You have more options than ever to rebuild your smile and turn back the clock, including:
Dental Implant: A dental implant replaces both the root and crown, making it the only solution to stop bone loss caused by missing teeth. A titanium post is surgically placed into the jaw to serve as a new root. An abutment is connected to the post to hold the restoration in place.
Bridge: A fixed bridge is the most traditional method of replacing one or more teeth in a row. The portions of your teeth above the gumline are recreated from all-ceramic materials. It is held in place by bonding dental crowns to the adjacent teeth. As an alternative to crowns, 1-2 dental implants can anchor your bridge to your jawbone.
Partial: Prosthetic teeth are set in a gum-colored base, which has a metal framework that allows it to clip or clasp onto your remaining teeth to hold them in place.
Denture: A traditional denture replaces an entire arch of missing teeth and is held in place using suction. Dental implants can also secure your denture to create the next best thing to your real teeth.
If you're ready to take years off your appearance, replacing your missing teeth is a good place to start.
About Dr. Luis Rodriquez
Dr. Rodriquez earned his dental degree from the University of Florida and has completed extensive continuing education in advanced services, like dental implants. He is a proud member of many professional organizations, including the Florida Dental Association. If you have lost a tooth or two, request a consultation through our website or call (352) 888-5779.