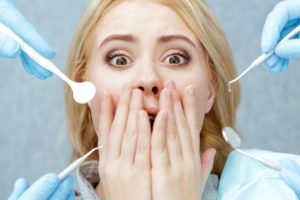 An important part of keeping your smile whole and healthy is visiting your dentist for a checkup and cleaning. These appointments are a vital part of your oral health. They not only keep your pearly whites clean, but they can also prevent any future dental problems. Unfortunately, having a dental phobia can cause you to avoid getting care for your teeth and gums. The good news is there is a solution! Read on to learn the possible causes of your fear and how your dentist can help.
What Causes Dental Phobia?
According to a recent survey conducted on the market research platform DentaVox, over 60% of people worldwide admit to suffering from dental fear. Although the reasons vary, here are some of the most common reasons why:
Fear of Pain: No one enjoys feeling discomfort in their body, but oftentimes the fear of it can become so great it can keep you from tending to your oral health by going to the dentist. If you (or someone you know) has had a negative dental experience, it can also begin to cause a phobia. The good news is that modern dental advances in technology and medicine have made dental procedures involve very little to no discomfort!
Fear of Needles: When patients require a dental procedure, sometimes a local anesthetic is injected into the area to prevent pain. Many people are not fully comfortable with the idea of needles, so they will avoid any necessary treatments. Nowadays, there are other options other than needles for sedation.
Lack of Control: Being reclined in a dental examination chair with your mouth open can make you feel a lack of control. In addition, not being able to see exactly what your dentist is doing may make you feel anxious.
How Your Dentist Can Help
As a patient, you may feel like you can't share your fears and concerns with your dentist. However, your dental team wants to make your experience as comfortable as possible by being aware of what can be done to alleviate any fears or anxieties. For this reason, many dentists adopt the "explain first" method. This involves explaining what they are going to do before it is actually done. By not feeling out in the dark during your treatment, you can begin to relax.
If you struggle with going to the dentist due to a dental phobia, then ask about sedation dentistry. This allows for a deep state of relaxation, effectively keeping your anxiety at bay throughout your appointment. A common dental sedation treatment is nitrous oxide, known by its common name as "laughing gas." This mild sedative is inhaled through a mask and works very quickly. It causes you to experience a light euphoric feeling soon after inhaling it. Many people love this option because you are still conscious the entire time but feel much more relaxed. As soon as the mask is removed, the effects quickly wear off. You can drive yourself to and from your appointment and continue with your day as usual!
Dental phobias are not uncommon, but they can be treated! With the help of a supportive dental team and sedation dentistry, you can continue to care for your smile so it can be bright and healthy for years to come.
About the Practice
Exceptional Dentistry & Sedation Center is eager to help you keep your smile healthy while feeling at ease through the expertise of their team of dentists. The dentists are all clinical adjunct professors at the University of Florida School of Dentistry and have extensive training at the Las Vegas Institute for Advanced Dental Studies. By offering various sedation dentistry services, they can assist you with any of your smile needs and goals while you remain comfortable. To schedule an appointment, contact them through their website or call (352) 332-6725.