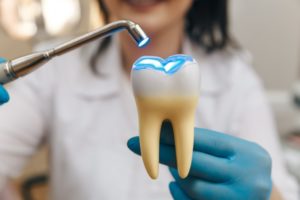 According to the Centers for Disease Control and Prevention, one in four adults between 20 and 64 years old has at least one cavity, and older adults are twice as likely to have untreated cavities. As one of the most common oral health problems in the country, many patients learn at their routine checkups and cleanings with their dentists that they need a filling to treat signs of decay. Read on to learn how they can tell that a cavity is forming and what they'll do to treat the issue.
What is Decay?
Decay, also referred to as a cavity, is the process of harmful oral bacteria producing enamel eroding acid that deteriorates dental structure. These bacteria are fueled by leftover sugars and carbohydrates in the mouth, which bind with saliva to form plaque, and eventually, tartar. Without proper brushing and flossing, these bacteria will thrive because they'll have a steady source of food that allows them to survive within the mouth.
If decay isn't treated in its earlier stages when it's eroding the protective enamel of teeth, it will continue eating through the dental structure, eventually leading to more serious problems, like tooth infections and painful toothaches. These typically require more extensive treatment than a simple filling.
How Can Your Dentist Tell if You Need a Filling?
At each of your routine checkups and cleanings, your dentist will examine your teeth for signs of common oral health problems, including gum disease and decay. In addition to a thorough visual and physical inspection, they may also use an intraoral camera to view the nooks and crannies of the mouth that are more difficult to see with the naked eye. Cavities can also form between teeth and find their way deep within a tooth, which is why X-rays are necessary as well. By using all of these methods, they'll be able to clearly diagnose decay and let you know when a filling is necessary.
In addition to your dentist's inspection, keep an eye out for common symptoms that you may experience at home so you can let them know at your next checkup. Some signs that you may need a filling include:
Tooth sensitivity
An older filling is damaged or missing
Dark spots on teeth
Sensitivity or a sharp pain
The Process of Getting a Filling
Today, dentists use a minimally invasive and aesthetically pleasing technique to treat cavities. Using biocompatible, tooth-colored resin, they'll seal off the damaged portion of the tooth from the threat of bacteria in the future, not only restoring its structure and minimizing any sensitivity, but also stopping the damage in its tracks.
About the Practice
Our practice is run by three highly skilled and talented dentists with collective decades of experience under their belts—Dr. Art Mowery, Dr. Kim Mowery, and Dr. Luis Rodriguez. Their dedication to using the highest quality of dental materials and modern techniques allows patients to enjoy restorative treatments that protect and strengthen teeth, as well as improve their appearance. To schedule an appointment, visit Exceptional Dentistry & Sedation Center's website or call 352-332-6725.