Cracked or Broken Teeth – Gainesville, FL
Repairing Damaged Smiles with Dental Implant Tooth Replacement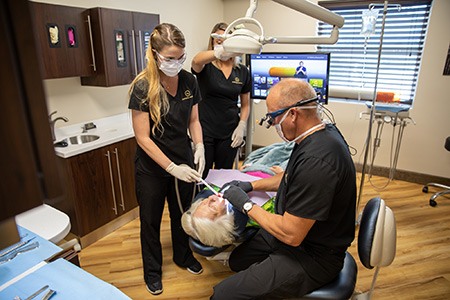 Cracked, severely chipped, or broken teeth can be saved with timely treatment and the right approach. Dr. Art Mowery and Dr. Kim Mowery have extensive experience performing restorative dentistry procedures and have completed advanced training in the areas of implant dentistry and cosmetic dentistry. They may recommend dental crowns, bridges, or dental implants to rebuild damaged teeth and restore your smile.
---
How to Fix Cracked or Broken Teeth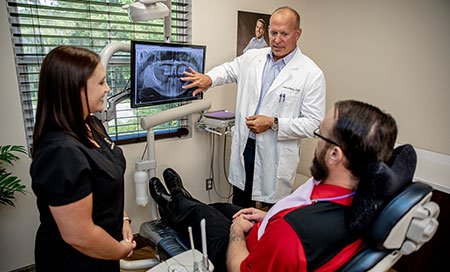 Any damage to the top of the tooth is relatively easy to fix with dental crowns. We can 'cap' the tooth with a ceramic or porcelain crown to protect the tooth from further damage and restore its natural shape. If you have a single missing tooth or a large gap between teeth, we can fix the space with a bridge. Dental bridges involve affixing one or more crowns to existing teeth to fill the gap and restore the bite. These also look and feel very natural so you can smile with confidence again.
While crowns and bridges are appropriate for some patients, replacing missing or severely damaged teeth with dental implants is more often recommended. That's because dental implants more closely resemble natural teeth and provide the same health and aesthetic benefits.
---
Benefits of Tooth Restorations
Restores ability to eat and speak
Performed in-house
Sedation options available
Natural looking results
Permanent solutions available
Highly durable and easy to maintain
Made with high-quality materials
Customized for the patient
---
Getting Treatment for Cracked Teeth in Gainesville, FL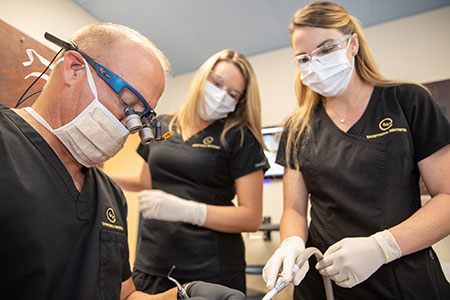 Our doctors have extensive experience repairing and restoring cracked teeth and broken teeth so you can look forward to a new smile. We offer IV sedation for more extensive procedures and other sedation options to minimize pain and discomfort with your procedure. In many cases, dental implants are the best solution for preserving the smile and our doctors perform both placement and restoration services in-house.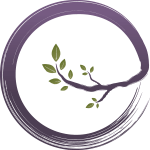 Have Questions? Get Answers.
Please fill out this short form and we'll be in touch.