Periodontal Disease – Gainesville, FL
Renew Smiles After Gum Disease Damage with Dental Implants
More than 64 million Americans have periodontal disease, according to the CDC, but only some get timely treatment for it. Gum disease is a severe infection of the mouth that can destroy your teeth and gums and even lead to tooth loss if left untreated. At Exceptional Dentistry & Sedation Center in Gainesville, FL, Dr. Art Mowery and Dr. Kim Mowery offer advanced treatment for periodontal disease in Gainesville, FL, using some of the most innovative technologies and protocols. We can get gum disease under control and keep your gums free of infection for years to come.
---
Symptoms of Gum Disease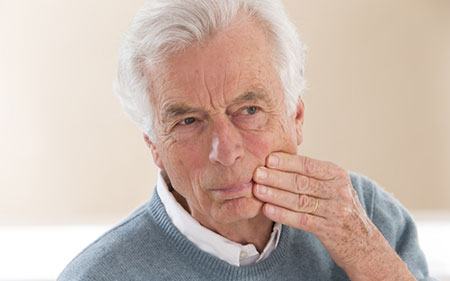 Bright red or inflamed gums
Persistent bad breath
Loose or shifting teeth
Bleeding when brushing or flossing
Tenderness of the gums
Tooth loss
---
The Dangers of Delaying Gum Disease Treatment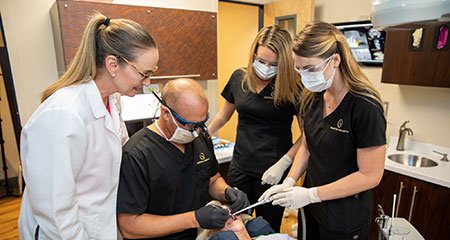 Gum disease is still the leading cause of tooth loss but many people don't know that periodontal disease can also cause bone loss and systemic health issues. While we can replace a tooth with dental implants, the progressive effects of gum disease can cause oral health issues including receding gums, tooth pain, and jaw bone loss that leads to facial deformities and an uneven bite. This is why early intervention is key to preserving your oral health.
---
Minimally Invasive Laser Periodontal Therapy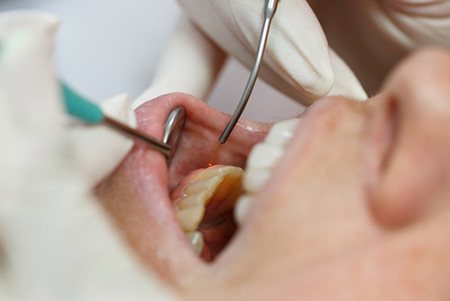 Dr. Art and Dr. Kim Mowery offer state-of-the-art treatment for periodontal disease in Gainesville, FL, with laser periodontal therapy. Laser dentistry offers several advantages, effectively eliminating the need to use a scalpel or stitches. The laser is simply passed over the infected tissue to eradicate almost all of the bacteria in the mouth. Our doctors also perform scaling and root planing for mild to moderate case of gum disease, and osseous surgery if a patient is not a good candidate for laser dentistry. All of our procedures are performed in-house and sedation is available for patients that need it. After the gums are healed, our doctors may replace missing or damaged teeth with dental implants as part of the restorative phase. Regular periodontal maintenance visits help to keep the gums disease-free.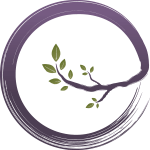 Have Questions? Get Answers.
Please fill out this short form and we'll be in touch.