What to Expect from Dental Implants – Gainesville, FL
Explore Our Unique Approach to the Tooth Replacement Process
Dr. Art Mowery and Dr. Kim Mowery proudly serve patients in Gainesville, FL, with a range of general, cosmetic, preventive, and restorative dentistry services. As the area's specialist in implant dentistry and the TeethXpress® full arch system, our highly experienced doctors maintain a high standard of care and ensure every patient receives an exceptional level of service. As you walk through our doors into a spa-like waiting room, you'll be greeted by friendly staff and receive personalized attention every step of the way. Here's what to expect from dental implants in Gainesville, FL at Exceptional Dentistry & Sedation Center:
---
Your Dental Implant Consultation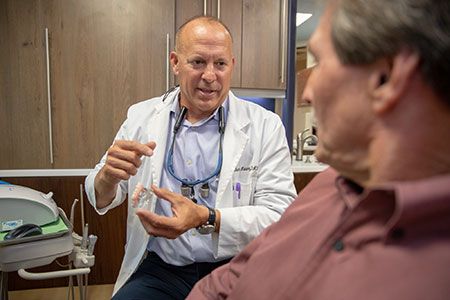 Your consultation with Dr. Art or Dr. Kim Mowery may involve a discussion about your goals, a review of your health and medical history, and taking a set digital X-rays to determine the exact locations of the missing teeth. If you have questions about single implants or the TeethXpress system our doctors would be happy to answer those questions at this time. To prepare for your consultation, you can review our Dental Implant FAQs page and learn more about the dental implant procedure in-depth here .
---
The Dental Implant Procedure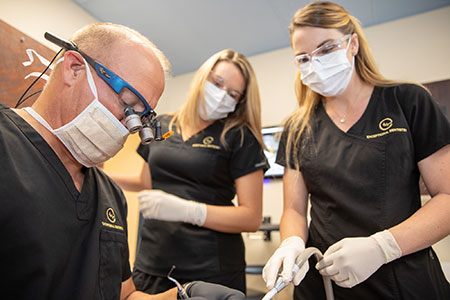 The first step of the dental implant procedure involves surgically placing the dental implant post into the jaw. This is a relatively straightforward procedure that can be performed under local anesthesia or IV sedation. The doctor makes a very small incision in the gum tissue and inserts the implant post into the jawbone. Once the jawbone and implant fuse together, the foundation is set for the final restoration.
Patients with a few missing teeth in a row may need a custom bridge that involves attaching two crowns to existing teeth and then filing the space with a custom crown to restore the bite. Patients with dentures can have their dentures attached to the dental implants to restore their smile. Otherwise, we will create a custom tooth restoration that affixes to the top of the dental implant post to recreate the tooth structure.
---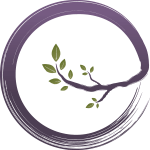 Have Questions? Get Answers.
Please fill out this short form and we'll be in touch.